NYRA RELEASE —-
Belmont Park Notes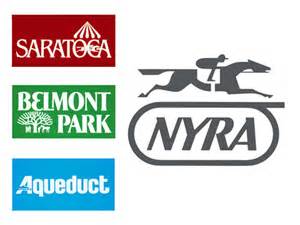 • Always Dreaming gets back to work with Saturday breeze
• Cloud Computing on target for Jim Dandy; Brown runners eye summer stakes
• Watershed, True Timber come out of final works for Stars & Stripes Day in good order for McLaughlin
• Summers touts Mind Your Biscuits' versatility after easy work
• Madefromlucky headlines State Dinner
• Probable contenders for the Stars & Stripes Racing Festival
ELMONT, N.Y. – Kentucky Derby winner Always Dreaming hit the worktab Saturday morning with a four-furlong breeze over the Belmont Park training track, his first work since his eighth-place finish in the Preakness on May 20. The Todd Pletcher-trained Bodemeister colt covered a solo half-mile in 49.96 seconds under exercise rider Hector Ramos.
"I thought he went great," said Pletcher. "We're really happy with it. It seemed like he did it very easily, very relaxed, in hand, and galloped out nicely. The main thing we wanted was an easy breeze. We just wanted to get a feel for where he is fitness-wise and based on the way he breezed and the way he finished, I'd say he's maintained his fitness very well."
Pletcher added that Always Dreaming is scheduled for three more breezes before his expected return in the Grade 2, $600,000 Jim Dandy on July 29 at Saratoga Race Course.
Patch, third in the Belmont Stakes last time out, breezed a half-mile in 49.72 on the training track in company with impressive allowance winner Coal Front.
"[Patch] went well," Pletcher said. "I'm happy with him. I'd say he's a candidate for the Jim Dandy, Haskell, West Virginia Derby, Curlin … he has lots of options. With Coal Front, we're kind of weighing our options between the Dwyer and the [Grade 2, $200,000] Amsterdam. The timing is good [for the Amsterdam, 6 ½ furlongs on July 29]. He's coming off a very fast allowance race and he's only got two races. We're trying to analyze it from all options."
Belmont winner Tapwrit is currently slated to step up his training next weekend with his first work following his two-length victory in the 'Test of the Champion' on June 10.
"We felt like coming off a mile and a half race, three works would do it, whether we decide to run in the Jim Dandy or the Haskell," said Pletcher.
Also on Saturday, 2015 Travers winner Keen Ice and multiple Grade 3 winner Tommy Macho turned in their final breezes for their respective Stars & Stripes Racing Festival assignments.
Keen Ice worked five furlongs in 1:00.85 over the training track ahead of his bid in the Grade 2, $750,000 Suburban, his first start since finishing seventh in the March 25 Dubai World Cup, while Tommy Macho, on target for the Grade 2, $350,000 Belmont Sprint Championship, breezed a half-mile in 49.77.
* * *
Preakness winner Cloud Computing continued his preparations towards a start in the Jim Dandy with a five-furlong breeze in 1:01.84 over the Belmont main track on Saturday morning.
With only four career starts, the son of Maclean's Music has raced exclusively against stakes competition since breaking his maiden at Aqueduct Racetrack last February, turning in respective second- and third-place finishes in the Grade 3 Gotham and Grade 2 Wood Memorial this spring.
"He looked very good," said trainer Chad Brown. "He galloped out well and is still on target for the Jim Dandy. I love where we're at with him."
Practical Joke, who is expected to make his first start since finishing fifth in the Kentucky Derby in next Saturday's Grade 3, $400,000 Dwyer visited the main track working in company with fellow multiple graded stakes runner Timeline as the pair of talented 3-year-olds completed four furlongs in 48.84 seconds.
"Both of them worked perfect," said Brown. "It was Practical Joke's final work before the Dwyer and Timeline's first work since winning the [Grade 3] Pegasus and it went really well."
Juddmonte Farms' Paulassilverlining, who has won her last three starts with notable Grade 1 victories in the Madison Stakes at Keeneland and the Distaff at Churchill, breezed four furlongs in 50.42 seconds in company with Your Love, who is undefeated in two starts, most recently capturing an allowance on June 18 at Belmont.
"Paulassilverlining continues to train well," said Brown. "Right now, I'm pointing her to the [Grade 2, $200,000] Honorable Miss [July 26] and Your Love worked good as well. She's done everything right so far. I'm looking to point her to the [Grade 1, $500,000] Test [August 5]."
Leading Brown's turf contingent turning in Saturday works over the main track was Grade 3 Wonder Again winner New Money Honey, on target for the Grade 1, $1 million Belmont Oaks, and Ticonderoga, pointing for the Grade 1, $1.2 million Belmont Derby, breezing four furlongs in 49.07 seconds in company.
Lastly, multiple graded stakes winner Lady Eli and Grade 1 Longines Just a Game winner Antonoe worked in tandem, completing four furlongs in 49.86 seconds on the main track.
"They seem to be a good team," added Brown. "Both of them were moving well."
* * *
Godolphin Racing's Watershed came out of his final breeze before the Grade 2, $750,000 Suburban on July 8 in great shape, trainer Kiaran McLaughlin said by phone on Saturday morning.
Watershed breezed four furlongs in 49 seconds at Greentree Training Center in Saratoga Springs on Friday. The 5-year-old son of Bernardini will be making his first appearance since a fifth-place effort in the Grade 3 Pimlico Special on May 19.
"He's doing very well and it's all systems go," McLaughlin said.
A winner in two of his last four starts, including the Grade 3 Ben Ali on April 15 at Keeneland, Watershed will run at Belmont for the first time since a fifth-place finish in the Grade 1 Jockey Club Gold Cup in October.
McLaughlin said his other Stars & Stripes entry, True Timber, also looks ready to go after a Friday breeze on the Belmont Park training track. The son of Mineshaft is expected to run in the Grade 3 Dwyer for 3-year-olds.
True Timber was clocked going four furlongs in 48.65 seconds, his third weekly breeze since finishing third in the Sir Barton on May 20 at Pimlico Race Course.
Last month, True Timber was a possibility for the Belmont Stakes but withdrew after being diagnosed with a fever. McLaughlin said he is fully recovered and will look to make his eighth career start against a talented Dwyer field that is expected to feature Practical Joke and Battalion Runner.
"He's been training well and has done everything right since he spiked a temperature before the Belmont," McLaughlin said.
Takaful, a 3-year-old Bernardini colt, was slated to start in an allowance race on Thursday at Belmont before being scratched at the gate. The Shadwell homebred, who had made three straight graded stakes starts after winning his debut on October 29, was scheduled to race in a six-furlong sprint after a freshening. McLaughlin said he will look to enter Takaful in a similar race soon.
"He came out of it in good shape and we'll just look for an allowance race later," McLaughlin said. "We'll look at a similar spot."
* * *
Mind Your Biscuits covered the final two furlongs of his four-furlong breeze in 24 seconds to finish up with a time of 51:23 on "Big Sandy" at Belmont Friday morning, prompting trainer Chad Summers to say "it was exactly what we wanted" from the multiple Grade 1 winner. It was the final work for the 4-year-old son of Posse before the Grade 2 Belmont Sprint Championship on July 8, part of the Stars & Stripes Racing Festival at Belmont Park.
The race will be the first for J Stables' chestnut colt since winning the Grade 1 Dubai Golden Shaheen, a six-furlong sprint at Meydan Racetrack back in March, where he surged from the back of the pack to a three-length victory. Summers says the Belmont Sprint, a Breeders' Cup "Win and You're In" qualifier for the Sprint on November 4, could shape up in a similar way.
"There should be enough speed in there with Green Gratto, Unified, Caderyn. We are going to do our race. We know we have the target on our back, but we are going to be coming for it," Summers said.
Summers said he won't be concerned if the pace is a little slower, pointing to Mind Your Biscuits' win in the Grade 2 Malibu at Santa Anita Park, where jockey Joel Rosario kept him a few lengths off the lead along the rail before angling out down the stretch, as an example of the horse's versatility.
"He showed in Dubai and in the Breeders Cup that he has that closing kick. He showed in the Malibu that he can be closer [to the pace]. So, he is a very tactical horse. He is kind of a little bit push button. And Joel knows him so well. We will leave it up to Joel," Summers said.
Jimmy Jerkins-trainee Unified and Gaston Grant's Green Gratto each worked five furlongs over the main track on Thursday morning and Friday, respectively. Unified covered the distance in 1:00:27, while Green Gratto breezed in 1:02:01.
* * *
Live racing continues through the holiday weekend at Belmont with the $100,000 State Dinner highlighting Monday's nine-race card.
Cheyenne Stables' multiple graded stakes winner Madefromlucky, set to make his first start since a fourth-place finish in the Grade 2 Oaklawn Handicap, will race at Belmont for the first time since finishing sixth in the 2015 Belmont Stakes..
The 5-year-old son of Lookin At Lucky has ran in a gantlet of stakes races since winning the Grade 2 West Virginia Derby as a 3-year-old where he last reached the winner's circle. Hoping to benefit from a little class relief, the Todd Pletcher trainee will leave from post 5 with Javier Castellano aboard.
Looking to rebound off a fifth-place finish in the Grade 1 Carter handicap is Stonestreet Farms' Ocean Knight. The 5-year-old son of Curlin has hit the board in his three career starts at Belmont and last earned a victory in an allowance optional claimer at Aqueduct in January. Since then he ran fourth in the Garde 3 General George Stakes on February 18 at Laurel Park before entering the Carter.
With Joel Rosario aboard, the pair will leave from post 6.
Trainer Linda Rice will enter the talented Seymourdini for Iris Smith Stable. Entering off back-to-back consecutive victories in allowance optional claimers at Laurel Park, Seymourdini last ran at Belmont finishing seventh in the Grade 2 Woody Stephens.
With Jose Ortiz in the irons, Seymourdini will leave from post 2.
Rounding out the field is Doyouknowsomething for A.C. Avila and owner Roddy Valente, Hard Study for trainer Todd Pletcher and owner Paul Pompa, Jr., Virtual Machine for trainer Dave Cannizzo and Serjeant Equine, Touchofstarquality for Michelle Nevin and Jay Em Ess stable, Realm for trainer Barclay Tagg and Discreet Lover for trainer and owner Uriah St. Lewis.
* * *
Probables for the Stars & Stripes Racing Festival on Saturday, July 8, 2017:
Grade 1, $1.2 million Belmont Derby
Probable: Arklow (Brad Cox);Big Score (Tim Yakeen); Called to the Bar (Pia Brandt); Frostmourne (Christophe Clement); Good Samaritan (Bill Mott); Makarios (Nick Zito); Oscar Performance (Brian Lynch); Senior Investment (Kenny McPeek); Ticonderoga (Chad Brown); War Decree (Aidan O'Brien); Whitecliffsofdover (O'Brien); Yoshida (Mott)
Grade 1, $1 million Belmont Oaks
Probable: Beau Recall (Simon Callaghan); Coasted (Leah Gyarmati); Daddys Lil Darling (McPeek); Dynatail (Michael Dini); Fifty Five (C. Brown) Grizzel (Michael Doyle); Journey Home (Graham Motion); New Money Honey (C. Brown); Sistercharlie (C. Brown); Uni (C. Brown); Violet Blue (Jimmy Toner)
Possible: Key To My Heart (O'Brien); Rain Goddess (O'Brien)
Grade 2, $750,000 Suburban
Probable: Follow Me Crev (Vladimir Cerin); Keen Ice (Todd Pletcher); Matt King Coal (Linda Rice); Shaman Ghost (Jimmy Jerkens); Sunny Ridge (Jason Servis); Watershed (Kiaran McLaughlin)
Grade 2, $350,000 Belmont Sprint Championship
"Win and You're In" TwinSpires Breeders' Cup Sprint Division
Probable: Awesome Slew (Mark Casse); Cadeyrn (Jeremiah Englehart); Fellowship (Kenneth Decker); Green Gratto (Gaston Grant); Mind Your Biscuits (Chad Summers); Stallwalkin' Dude (David Jacobson); Tommy Macho (Pletcher); Unified (Jerkens)
Grade 3, $400,000 Dwyer
Probable: Battalion Runner (Pletcher); Guiseppe the Great (Zito); Practical Joke (C. Brown); True Timber (McLaughlin)
Possible: Coal Front (Pletcher); Petrov (Ron Moquett); Tale of Silence (Barclay Tagg)
Full nominations and past performances for the Stars & Stripes Racing Festival are available at https://www.nyra.com/belmont/horsemen.