Bob Hill, TSV Staff Writer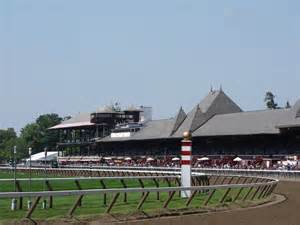 Race 9) 7 furlongs, Forego G1, $600,000 for three-year-olds and up
Post Time: ( 4:12)/ 3:12/ 2:12/ 1:12)
Sleepwalkin' Dude (1), Jacobson/Bravo; millionaire winner now seven years old; small piece is likely topside finish for him.
Ross (2), Schiergen/Starke; Euro and Dubai veteran has never won on dirt and is unlikely to reverse that trend against this top notch field.
Tom's Ready (3), Stewart/Hernandez,B; won last time out on synthetics, but he will have to run faster than he ever has to hit the board.
Divining Rod (4), Delacour/Castellano; won at distance in the mud at Laurel just two weeks ago; in great form and is threat to finish in the money.
Awesome Slew (5), Casse/Velazquez; was runner-up to Mind Your Biscuits in Belmont Sprint and will be running late to threaten tiring horses.
Mind Your Biscuits (6), Summers/Rosario; gets second shot to beat BC champ Defrong while in top form; love this horse.
Tommy Macho (7), Pletcher/Saez; he's probably better at a slightly longer distance; will need things to go just right to hit the board.
Tale of S'avall (8), Tagg/Franco; has been beaten by several in this field so his best shot may be a minor piece if he runs the race of his life for trainer who gets his sprinters ready.
Very Very Stella (9), Noda-Fernandez/Hernandez, C; badly overmatched Florida invader is in for a long day.
Defrong (10), Baffert/Smith; fiasco in Bing Crosby notwithstanding, the defending BC champ is the one they'll have to catch; ran well at SPA last year.
Picks: 10-6-4-5
Race 10) 1-1/2 miles on inner turf, Sword Dancer G1, $1,000,000 for three-year-olds and up
Post Time: ( 4:49)/ 3:49/ 2:49/ 1:49)
Frank Conversation (1), O'Neill/Gutierrez; exits the Bowling Green as do the three to his immediate outside. Probably a pace factor only.
Bigger Picture (2), Maker/Ortiz J.; was runner-up beaten a neck in the Bowling Green; definite threat to factor in the money.
Sadler's Joy (3), Albertrani/Leparoux; got to front in the Bowling Green before being nipped at the wire by the top two; broke his maiden at the 10-furlong distance; player.
Hunter O'Riley (4), Toner/Geroux; winner of Bowling Green at long odds will be rolling late and is factor to hit the board.
Money Multiplier (5), Brown/Castellano; was second to Flintshire in this race last year; Chad Brown will have him ready to win this race.
Erupt (6), Graffard/Pasquier; first of two Euro invaders lacks the name recognition of his connections but this guy fits with these although recent form in Group 1 racing not great.
Idaho (7), O'Brien/Moore; top tier connections for this Euro invader. O'Brien could not beat Brown in Arlington Million and probably will suffer same fate here.
Picks: 5-7-3-6