TSV Staff Selections —-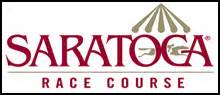 Race 10),7 Furlongs. Spinaway S. Grade I. Purse $350,000 FOR FILLIES TWO YEARS OLD
Post Time: 7:57/ 6:57/ 5:57/( 4:57)
ADVANCED FORECAST: Chance Thunderstorms, High 87 Low 74
Separationofpowers (1), Brown/Ortiz, J; blew away the competition in her racing debut, winning by 11 lengths; trainer/jock team a whopping 45 percent at the meet.
Obvious Two (2), Quartarolo/McMahon; debuts in new barn following her maiden win at Thistledowns; major class test.
Lady Ivanka (3), Rodriquez/Ortiz, I; another who dominated in her debut, her's coming by eight lengths; this trainer/jock duo is 20 percent on the meet.
Pure Silver, (4), Pletcher/Velazquez; never headed in her three career starts, including a dismantling of the G3 Adirondack field here last month; the one to beat.

Maya Malibu (5), Motion/Castellano; Delaware shipper cleared her debut start by six lengths; jock change a plus.
Selections: 4, 1, 3