By Rick Francis —-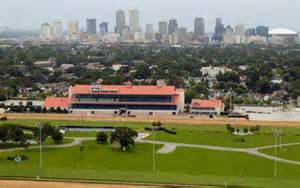 FAIR GROUNDS
Race 8) OC 12.5k n1x 1 Mile Turf F&M Post Time 4:35 CST
Big Game Baby (1), Foster/Murrill; competitive at this and overnight stakes levels, however filly has failed to hit the board here in two tries and was pulled up in last.
Lunarstrike (2), Nicks/Green; showed twice from her last three starts, all LaD attempts; winless here from nine tries.
Anytime Baby (3), Hutchinson/Hisby; finished third last out, her first board effort since breaking her maiden in September of 2016.
Lookout Mountain (4), Ney/Doyle; exits her first win in over a year, however that score came over the Evangeline main; dirt to turf a 9 percent training angle.

Platinum Kitty (5), Hodges/Graham; filly has been tough in her last five starts, placing twice and finishing third two back; an exotics keeper.
Reckless Girl (6), Grimaldo/Mena; her lone turf start was here in April and it was a winning one; a lot to like here with a price.
Air Guitar Star (7), Hargrave/Pedroza; makes turf and barn debut; the firsts on the turf for the Hargrave barn is currently at zero, but she has been working well.
Spartanburg (8), Delhomme/Hernandez, C; has been close in last five, running second twice and missing
third by a half-length; Delhomme turf starters are a strong 31 percent.
Love This Dance (9), Stall/Albarado; class drop in her return to the turf; off since June Uncle Mo filly has been posting some quick workouts.

Flowersforlady (10), Ingram/Valdivia; has placed here three times from seven attempts, but form has gone south in last three starts finishing sixth in each.
Selections: 8, 9, 6, 5