NYRA RELEASE —-
Aqueduct Racetrack Notes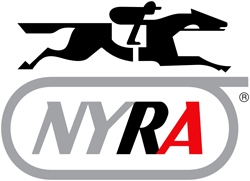 • Sharp Azteca exits G1 Cigar Mile victory in good shape
• Strong handle signals positive changes to Cigar Mile Day
• Kentucky Oaks the goal for G2 Demoiselle winner Wonder Gadot
• New millionaire Highway Star 'perfect' after G3 Go For Wand
• Catholic Boy Florida-bound following breakthrough G2 Remsen win
• Plenty of options for Cigar Mile runner-up Mind Your Biscuits
• Avery Island gets an education; Indulgent possible for Ladies H.
OZONE PARK, N.Y. – Ivan Rodriguez's Sharp Azteca is no worse for wear Sunday morning following his first career Grade 1 victory in Saturday's $750,000 Cigar Mile Handicap presented by NYRA Bets at Aqueduct Racetrack, trainer Jorge Navarro said by phone from his Florida training base.
Navarro noted that the 4-year-old colt by Freud suffered a superficial laceration on a back leg but has otherwise emerged from his 5 ¼-length victory in good order.
"It's nothing serious. I guess coming out of the gate, a horse cut him in the back, but everything is good," he said. "I had to jump on a plane last night, so I only got to see him for a little while after the race, but I spoke to my guy out there and I spoke to my vet. He looks very bright, alert. I'm pretty pleased with how he's come out of the race so far. He was begging for his mints and carrots."
In the Cigar Mile, the centerpiece of the Big A's fall meet, the typically speedy Sharp Azteca showed a new dimension under Hall of Fame jockey Javier Castellano, sitting off a pair of frontrunners early only to power home a decisive winner while carrying the field's 125-pound highweight to a final time of 1:35.17.
"I'm still wowed by that performance," said Navarro. "What more can you ask? I love fast horses, but those types of horses always find someone who wants to go with them I'm pleased we can have a second plan with him.
"Castellano did an amazing job. That's why he's Javier Castellano," he continued. "There wasn't much to say in the paddock. I just told him, 'You're on top of him, you do what you want. The only thing I'm going to ask is that once you put him there to make a move, don't wait, just go. You can't wait on him; when you open up that window, go.'"
Navarro said the connections are currently "95 percent" sure that Sharp Azteca, who flies back to Gulfstream Park West on Tuesday, will kick off his 2018 season in the Grade 1, $16 million Pegasus World Cup Invitational on January 27 at Gulfstream Park.
"He's going to fly home and we're going to regroup," he said. "I'm going to give him probably a week off to see how he comes out of this and we'll go from there. He's going to let us know. With him, he lets us know where he's at."
* * *
A strong Cigar Mile Day card, highlighted by Sharp Azteca's victory in the 29th running of the Grade 1, $750,000 Cigar Mile Handicap presented by NYRA Bets, generated all-sources handle of $13,545,188, marking an 11.8 percent increase over 2016's Cigar Mile Day, which was contested one week earlier.
For the first time, NYRA moved the Grade 1 Cigar Mile back one week from its traditional date on the Saturday after Thanksgiving, scheduling the signature race of the Aqueduct Fall meet four weeks after the Breeders' Cup. The purse was also increased from $500,000 to $750,000.
Three Breeders' Cup competitors – Sharp Azteca (second in the Dirt Mile), Mind Your Biscuits (third in the Sprint) and Practical Joke (fourth in the Dirt Mile) – finished first, second and third, respectively, in Saturday's Cigar Mile.
The day's card also included the Grade 3, $200,000 Go For Wand, which featured Breeders' Cup Filly & Mare Sprint competitor Highway Star, who finished a game second to Indulgent. In the Grade 2, $250,000 Remsen, Catholic Boy, the fourth-place finisher of the Breeders' Cup Juvenile Turf, made a successful switch to dirt and romped to an impressive victory to solidify his credentials as a Kentucky Derby hopeful.
Saturday's 10-race card also featured the return of the NYRA Bets Late Pick 5 with a mandatory payout. Featuring a low 15 percent takeout and a 50-cent minimum, the NYRA Bets Late Pick 5 is available exclusively to NYRA Bets members across the country and horseplayers on-track or at New York state simulcast facilities. On Cigar Mile Day, the popular wager paid out $30,595.50 to winning tickets.
* * *
One day after winning his debut on dirt in capturing the Grade 2 Remsen at Aqueduct Racetrack, Catholic Boy was in good shape as he awaits his return to Florida, trainer Jonathan Thomas said.
Catholic Boy, who had won his first two races on grass before finishing fourth in the Grade 1 Breeders' Cup Juvenile Turf on November 3 at Del Mar, rallied from sixth to win the Remsen by 4 ¾ lengths. The Robert LaPenta-owned juvenile earned a 91 Beyer Speed Figure for the effort over 1 1/8 miles on the main track.
"He came out of his race in good order and looked great this morning, so all-in-all, he exited that in good shape," Thomas said Sunday morning. "It confirmed our belief that he could get the [distance]. We had seen some indicators that he could handle the dirt in the mornings, and he obviously confirmed that he could do it as well in the afternoons. He's always been a very reliable horse and has shown up in every scenario we put him in."
Catholic Boy won his debut on July 20 at Gulfstream Park before winning the Grade 3 With Anticipation by one length over Irish Territory on August 30 at Saratoga Race Course, which marked Thomas' first career graded stakes win. After overcoming a poor start, the More Than Ready colt finished fourth in the Breeders' Cup, with Voting Control edging him by a head for third in the one-mile course. In the Remsen, Catholic Boy settled four wide in mid pack before going wide into the upper stretch and clearing away to outkick Avery Island.
"He's been very versatile. With the exception of his first start, he's had some form of a troubled trip and seems to shrug it off and deliver," Thomas said.
Catholic Boy will be shipped back to Thomas' base at Bridlewood in Ocala, Florida in the next two or three days, said Thomas, who added he might give the Kentucky bred a rest before his 3-year-old campaign.
"We'll let the dust settle," Thomas said. "It's a good time of year to get a few weeks to freshen up, so we'll allow him to do that. As the spring comes around, we won't have the same opportunity."
Thomas was an assistant to trainer Todd Pletcher before going off on his own, and he credited the seven-time Eclipse Award-winning trainer for his support.
"He's been instrumental in helping me," Thomas said. "The horse actually shipped from Del Mar to Todd's barn, and he's been super helpful. Him and his team and [assistant] Byron Hughes have been so helpful in this horse's training the last couple of weeks. I worked for Todd for a long time, so to have his guidance in all this has been great.
"I've also had a great owner who has allowed us to buy horses and make some decisions," he added. "We have a really good team at home, and the horse has done everything we asked him to do. As someone who is responsible for his care, my biggest nightmare is putting him in a scenario where he's over his head or a situation where he won't be able to shine. So, I'm proud of the horse."
* * *
Multiple Grade 1 winner Mind Your Biscuits will ship down to Florida within the next few days for a week's worth of walking in the sun following his runner-up performance to 5 ¼-length winner Sharp Azteca in the Grade 1 Cigar Mile on Saturday.
The 4-year-old Posse colt finished a willing second under Irad Ortiz, Jr., aboard for the first time since riding him to victory in his maiden breaker over the slop at Aqueduct on April 9, 2016. It was the colt's first race back since his third-place finish in the Breeders' Cup Sprint at Del Mar. The Chad Summers-trained 2016 New York-bred Horse of the Year has six wins, seven placings, and three show finishes from 19 starts and $2,509,166 in career earnings. As of now, Summers and his connections will decide where to point next for his 20th start, and have plenty of options to consider.
"We're doing well. I was real proud of him," Summers said. "He showed everybody what he can do. Obviously, we ran into a monster in Sharp Azteca. But it's funny, I did an interview awhile back, and I said Sharp Azteca will be a Grade 1 winner someday, I just hope I don't have to run against him when he does it. Obviously, he was the horse to beat, and he showed it, but I was proud of my horse.
"He ran against the bias, ran a clear second against a few nice horses that are going to be stallions for a lot of money, so with our little Posse connection, we showed up, and he beat them up, so I'm proud of him.
"I'm hoping he can capture the New York-bred title," he added. "There's a New York race here on January 18, it's seven eighths, but we have a lot of different things considered right now. We have the Pegasus [World Cup Invitational], Dubai, the Carter, the Met Mile. Going longer has certainly been on the radar for a long time, but the Carter is seven-eighths, and perfect for him. It's great to have options. If I was a percentage guy, I'd say 15 percent looking at the Pegasus, plus there's the General George, the Golden Shaheen, and the Gulfstream Sprint."
Summers said Mind Your Biscuits will settle in at Palm Meadows as his connections weigh the possibilities.
* * *
Earning a victory in Saturday's Grade 3 Go For Wand with Indulgent and a second-place finish in the Grade 2 Remsen with Avery Island both owned by Godolphin Racing, trainer Kiaran McLaughlin was in good spirits speaking from Florida Sunday morning.
"They both came back in excellent condition," said McLaughlin. "Avery Island will ship to Florida on Thursday and train here before shipping back up for the [Grade 3, $250,000] Withers on February 3."
Winner of the Grade 2 Nashua on November 5 at Aqueduct, Avery Island entered the race with a highweight of 122 pounds, which McLaughlin believes played a factor, but was still left encouraged with his effort.
"It was a good education race," said McLaughlin. "On paper, it looked like we were going to be on the lead, but I thought Joe [Bravo] did the right thing just staying off the front with two longshots who hooked up early for the lead.
"Of course, we would have liked to win, but it was a good race in which he took dirt and we were also giving most of the field six pounds in weight with his victory in the Nashua and two pounds to the winner," he added. "That makes a difference in mile-and-an-eighth races, but overall I think he ran well and will be better in the long run with this effort going forward."
Picking up her first stakes and graded stakes win with Indulgent in the Go For Wand, McLaughlin was satisfied to see the half-sister to multiple graded stakes winner Frosted earn blacktype.
"It was a huge win for us," said McLaughlin. "She's a barn favorite and, of course, is a half-sister to Frosted, so it was very important that she not only got a stakes win but a graded stakes win. Going forward, we don't know if she'll be retired but we'll keep the [$100,000] Ladies Handicap [Sunday, January 21] under consideration.
* * *
Gary Barber's Grade 2 Demoiselle winning filly Wonder Gadot will get some time away from the races according to trainer Mark Casse, while he and his team map out a plan to get to the Grade 1, $1 million Longines Kentucky Oaks on May 4.
The 2-year-old Ontario-bred filly by Medaglia d'Oro earned her third victory from five starts by winning the Demoiselle by 3 ¾ lengths, adding $150,000 to boost her earnings to $312,973.
"She was great this morning," Casse said. "We're going to wait a day or two then take her back to the training center, and from there we're going to map out some sort of plan to get her to the Oaks. We know she loves Churchill Downs. She's trained over it real well, so that's a plus. So we'll look at the Oaks as our goal then work backwards from there. Could be back in New York, could be California, maybe even Oaklawn to get her there. We have four good fillies for Mr. Barber, so we'll try to keep them separated, which is not an easy thing to do, but it's a great problem to have."
The Demoiselle was her first race back since her troubled sixth place finish in the Breeders' Cup Juvenile Fillies at Del Mar. Following the race, Casse sent Wonder Gadot back to the farm after the Breeders' Cup instead of shipping straight to Aqueduct. The move may have proved to help her performance, especially after running in her toughest race to date.
"I was so disappointed in the Breeders' Cup," Casse said. "It's one thing when you have a horse and they get beat, win, lose or draw, you had your chance, and it didn't happen. She never had a chance, and she didn't get to show it. When you get the chance to get to a race like the Breeders' Cup, and you don't get a chance to show what you have, it's frustrating.
"In the end, we're really happy just to have the chance to have a good filly like her."
Owner Gary Barber, who works in the film industry, named the filly after the actress Gal Gadot, who plays Wonder Woman.
* * *
Chester and Mary Broman's homebred Highway Star came out of her second-place finish in Saturday's Grade 3 Go For Wand "perfect," trainer Rodrigo Ubillo said Sunday morning. Carrying the highweight of 123 pounds, Highway Star was sent off at odds of 5-2 and made a game bid in the stretch before finishing a length behind 12-1 upset winner Indulgent.
"It was a tricky track," Ubillo said. "It kind of stayed the same all the way around. No horse from behind did anything. So, I think the track was on the deep side and wherever you were you just kept going. That's my take on the track, and we had more weight than everyone else. Between those things, if you want to find something, but she ran good."
The New York-bred daughter of Girolamo saw her career earnings hit $1,009,000 with the effort. During her 2017 campaign, Highway Star hit the board in six of eight races, capturing three graded stakes at three different distances between 6 ½ furlongs and one mile, starting with the Grade 3 Distaff Handicap on April 9 at Aqueduct, followed by the Grade 2 Ruffian on May 13 and the Grade 2 Gallant Bloom on September 24, both at Belmont.
"It was a good year," Ubillo said. "It's pretty good for a New York-bred filly. I think she can do even better. It's a great year and big accomplishments by her. Hopefully, she continues to do good next year."
Ubillo said he hasn't made definitive plans for Highway Star's next spot but is targeting early 2018 for her 5-year-old campaign debut.
"We are just going to keep training her and keep her happy," Ubillo said. "It could be a month, it could be two months, but she is going to keep training and if something comes along, and we think it is right, we will do the right thing by her. If not, we will just wait."