By Jennifer Hoyt —-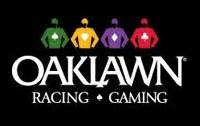 Amy's Challenge Pointing toward Dixie Belle
Unbeaten Amy's Challenge is pointing for the $125,000 Dixie Belle Stakes for 3-year-old fillies Jan. 20 at Oaklawn, trainer Mac Robertson said Tuesday morning.
Amy's Challenge was named Canterbury Park's "Horse of the Meet" after winning her Aug. 6 career debut by 16 ½ lengths and the $75,000 Shakopee Juvenile Stakes Sept. 16 by three-quarters of a length in her last start. The Kentucky-bred daughter of Artie Schiller toppled males in both starts.
In preparation for the 6-furlong Dixie Belle, Amy's Challenge recorded her first work over the Oaklawn surface Thursday morning, breezing a half-mile in :48.40 under regular rider Jareth Loveberry.
"I'd like to make it to the sprint race because it fits good," Robertson said as he watched Amy's Challenge in a round pen. "If I don't run in there, I'm stuck running a mile in three weeks. I was happy getting a work in her last week."
Following the Dixie Belle, Oaklawn's stakes series for 3-year-old fillies continues with the $125,000 Martha Washington at a mile Feb. 10.
Amy's Challenge breezed last week from the 3-furlong pole to the seven-eighths pole.
"I've worked her most of the time past the wire," Robertson said. "She'll probably do the same thing. If I can get another work in her this week, I'll be happy."
Amy's Challenge earned a Beyer Speed Figure of 91 in her debut and 92 for the Shakopee Juvenile, both ranking among the 11 highest in the country this year for 2-year-olds through Monday.
Jason in the House
Trainer Jason Barkley is wintering at Oaklawn for the first time in hopes of building on his already impressive work resume.
Barkley, 28, saddled his first career winner Oct. 6 at Keeneland after honing his skills under big-name trainers like Wesley Ward, Joe Sharp, Hall of Famer Nick Zito, Paul McGee and Larry Jones.
"If I can leave here a 15-percent trainer for the meet, with some quality stock to take back to Kentucky, it will be a good meet," Barkley said Tuesday morning. "Just run competitively."
Barkley's five-horse Oaklawn string doesn't include his only career winner, Stella Nova, whom the trainer lost through a $16,000 claim Nov. 9 at Churchill Downs.
Barkley had claimed Stella Nova out of an Aug. 11 victory at Ellis Park for $7,500. She won for a $10,000 claiming tag Oct. 6.
Oaklawn's reputation for extraordinarily high claiming traffic was among the lures to Hot Springs, Barkley said.
"I've got a lot of clients that like to play the claiming game," Barkley said. "The money is good down here. You can kind of place them aggressively, win and turn them over. There's a lot of owners that come in here and go to the races. It's a good place for me to be seen and try to pick up a few guys."
Barkley's father, trainer Jeff Barkley, is a former assistant to Jones and won a race at the 2004 Oaklawn meeting.
Jason Barkley was an assistant to Sharp in September 2015-May 2016 and spent the next year as an assistant to Ward before going out on his own again last summer.
Barkley started eight horses in 2015 and is 1 for 12 in his second stint training. He graduated from the University of Louisville in 2011 with a degree in equine administration.
Nine Down, Two to Go
Tapa Tapa Tapa, a graduate of the key race of the 2017 Oaklawn meeting, teased the track record in her 12 ½-length comeback victory Saturday at Tampa Bay Downs for trainer Tim Hamm.
The allowance/optional claimer at a mile and 40 yards on the dirt marked the first start for Tapa Tapa Tapa since a sixth-place finish in the $250,000 Black-Eyed Susan Stakes (G2) May 19 at Pimlico. In her previous start, Tapa Tapa Tapa ran fourth in the $200,000 Honeybee Stakes (G3) for 3-year-old fillies March 11 at Oaklawn.
Tapa Tapa Tapa became the ninth Honeybee runner (there were 11 starters) to return and win, a list topped by subsequent two-time Grade 1 winner and Breeders' Cup Distaff betting favorite Elate and It Tiz Well, who won the $1 million Cotillion (G1) Sept. 23 at Parx in her last start.
It Tiz Well and Elate finished first and third, respectively, in the Honeybee.
Tapa Tapa Tapa, as the 4-5 favorite Saturday, ran the distance over a fast surface in 1:39.70, less than a second off the track record.
The only Honeybee starters who haven't returned to win are Perfect Wife and Tap of War, who worked a half-mile in :48.20 Sunday morning at Oaklawn for trainer Kelly Von Hemel. Tap of War could be seen early in the 2018 Oaklawn meeting, Von Hemel said.
Seven Honeybee starters have returned to win stakes races, including Someday Soon, who captured the $75,000 Tomboy May 14 at Belterra Park in her last start. She worked 5 furlongs in 1:01.60 Thursday morning at Oaklawn for her scheduled 4-year-old debut in the $125,000 Pippin Stakes Jan. 13, trainer Will VanMeter said.
The Pippin is the first of three major local preps for the $700,000 Apple Blossom Handicap (G1) April 13. The 1 1/16-mile Apple Blossom will have a record purse in 2018 after previously being worth $600,000.
Finish Lines
There were 1,072 horses on the grounds Tuesday morning. … The track was rated fast for workouts Tuesday morning. … Agent Gene Short of Hot Springs said he will again represent Alex Canchari, Oaklawn's co-third leading rider in 2017, and newcomer Mike Luzzi at the 2018 meet scheduled to begin Jan. 12. The New York-based Luzzi won an Eclipse Award as the country's outstanding apprentice in 1989 and has 3,482 career victories, according to Equibase, racing's official data gathering organization. Luzzi has had four mounts at Oaklawn, with his lone victory coming in 2006 aboard Spun Sugar for trainer Todd Pletcher in the $500,000 Apple Blossom Handicap (G1) for older fillies and mares. … Romping Hawthorne maiden special weights winner P R Radio Star is scheduled to arrive Jan. 2, said Richard Robertson, who co-owns the 2-year-old Warrior's Reward colt with trainer Tom Swearingen. Robertson said P R Radio Star is pointing for a Jan. 13 entry-level allowance race at a mile. P R Radio Star broke his maiden by 12 ½ lengths Dec. 16.