By Mike Willman —-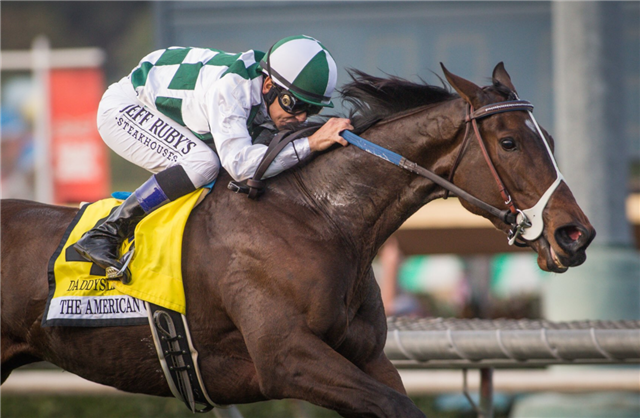 Daddys Lil Darling; Zoe Metz Photo
DADDYS LIL DARLING RALLIES TO TAKE GRADE I, $300,000 AMERICAN OAKS UNDER SMITH; KENTUCKY SHIPPER, TRAINED BY MCPEEK, GETS 1 ¼ MILES ON TURF IN 2:00.11
ARCADIA, Calif. (Dec. 30 2017)—Just when it looked like favored New Money Honey would be tough to deny turning for home, Mike Smith wheeled three-wide to engage with Daddys Lil Darling, who responded with a discernable turn of foot to outsprint Madam Dancealot in deep stretch and win Saturday's Grade I, $300,000 American Oaks at Santa Anita by a half length. Trained by Kenny McPeek and based at Keeneland, Daddys Lil Darling got a mile and a quarter on turf in 2:00.11.
With longshot Coachwhip showing the way into the far turn, it appeared 9-5 favorite New Money Honey, a measured second with Javier Castellano up, would be extremely tough to overhaul, but "New Money" was no match for the winner and was spent a sixteenth of a mile out.
The 2-1 second choice in a field of nine 3-year-old fillies, Daddys Lil Darling paid $6.00, $3.60 and $3.00.
Owned by her breeder, Normandy Farm, the Kentucky-bred daughter of Scat Daddy picked up her first graded stakes win and improved her overall mark to 15-4-5-1. With the winner's share of $180,000, she increased her earnings to $1,138,405.
Last early under Corey Nakatani, Madam Dancealot motored four-wide at the top of the lane, had dead aim on the winner, but couldn't get by, finishing second, 1 ½ lengths in front of longshot Kathy's Song. Off at 9-2, Madam Dancealot paid $4.20 and $3.60.
Ridden by Brice Blanc, Kathy's Song outran New Money Honey late to finish third by a half length. Off at 18-1, Kathy's Song paid $6.00 to show.
Fractions on the race were 24.38, 48.68, 1:12.83 and 1:36.83.
AMERICAN OAKS STAKES QUOTES
GRADE I, $300,000
JOCKEY QUOTES
MIKE SMITH, DADDYS LIL DARLING, WINNER: "Kenny said not to be surprised if we were laying a whole lot closer today. We're so used to seeing her run double digits out the back but she's been training really well and really aggressively. He said,' It's OK, she can just do 48's and keep reelin' them off.' He said as long as she jumps well, to leave her up there, as long as she was happy. To not take anything away that was coming easily and that's pretty much what I did.
"I didn't want to have to wait for room. The horse right in front of me (Javier Castellano, on New Money Honey) spread the turn a little but I knew he was going to drop back in. I went outside of him anyway and he dropped back in and I was able to really get a good momentum going at that point which I needed because Corey was coming on my outside."
COREY NAKATANI, MADAM DANCEALOT, SECOND: "She ran a tremendous race. She likes to run from off the pace and we didn't want to change her style today. I was hoping we could catch the winner, but we couldn't quite get there. Like I say, maybe we could've tried to sit a little closer, but we didn't want to change anything because she's been finishing so well in all of her races."
TRAINER QUOTES
KEN McPEEK, DADDY'S LIL DARLING, WINNER: Asked about winning the last Grade I of 2017: "We've been a bit of a bridesmaid all year. We've had 83 thirds on 53 winners, which is a little frustrating and kind of an odd number.
"We've had some horses run really well; she was second in the (Grade I) Kentucky Oaks, second in the (Grade I) Ashland, but it was one of those things. What are you going to do but keep trying? We wanted to keep her in straight three-year-old filly competition before the year was out. Fortunately, she stayed on form.
"It was a bit frustrating (not getting a Grade I) because she was always competitive but didn't have things go her way . . . but she's a special filly and you just have to keep trying t with those kind. She tries hard on any kind of going, and that makes a trainer's job pretty easy.
"I felt pretty confident (when Madam Dancealot was closing on the outside in the stretch).I felt like we had a big chance. I wasn't worried about the distance sat all. The fact that she sat third early is a pretty big deal, because she's had some races where she ended up back there eighth, ninth and had to circle the field."
OWNER/BREEDER NANCY POLK OF NORMANDY FARM, DADDYS LIL DARLING, WINNER: "I was feeling excitement and purer panic at the end there. Madam Dancealot was closing and I thought, 'Oh no!' But she hung on and she did very well. We've been working for this Grade I win for a while so it's wonderful to have it under our belt."
NOTES: The winning owner is Normandy Farm.
Cover Photo: Daddys Lil Darling; Zoe Metz Photo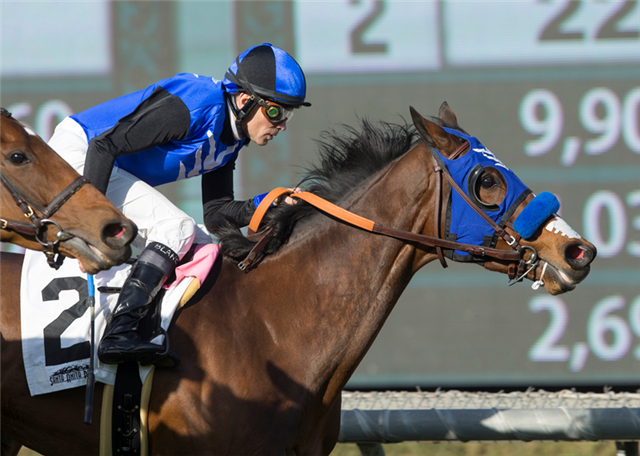 Midnight Crossing; Benoit Photo
LONGSHOT MIDNIGHT CROSSING SLOWS PACE & WINS GRADE III, $100,000 ROBERT J. FRANKEL STAKES BY A HALF LENGTH UNDER BLANC; IN HER FIRST START FOR BALTAS, SHE GETS 1 1/8 MILES ON TURF IN 1:48.10
ARCADIA, Calif. (Dec. 30, 2017)—Left to his own devices on the front end of Saturday's Grade I, $100,000 Robert J. Frankel Stakes at Santa Anita, Brice Blanc slowed the pace down aboard 22-1 longshot Midnight Crossing and came away with a hard-fought half length victory over 8-5 favorite Elysea's World. In her first start for trainer Richard Baltas, Irish-bred Midnight Crossing got a mile and one eighth on turf in 1:48.10.
Previously based at Woodbine Racecourse in Toronto, Midnight Crossing, a 4-year-old filly by Dark Angel, had made her seven previous starts for Canadian trainer Roger Attfield, but was purchased privately following her most recent start at Woodbine on Nov. 3 and sent to Baltas, who, coincidentally, took last year's Frankel with Goodyearforroses, who had also been shipped west from Woodbine.
In a short field of six, Blanc allowed his mount to get her bearings and make an easy lead into the first turn with Gliding By, Responsibleforlove and Laseen in close attendance. However, Blanc was allowed to cruise through splits of 24.27, 48.94, 1:12.90 and 1:36.36 and was thus able to open up a length and a half advantage turning for home and was all out to hold off the favorite late.
In her 18th career start, Midnight Crossing registered her first stakes win and paid $47.60, $12.80 and $5.00.
Owned by Abbondanza Racing, LLC and Medallion Racing, Midnight Crossing picked up $60,000 for the win, increasing her earnings to $131,377. Her overall mark now stands at 18-3-2-1.
Ridden by Javier Castellano, Elysea's World swung four-wide from off the pace turning for home, but came up a half length short at the wire. Trained by Chad Brown, she paid $3.60 and $2.40.
Irish-bred Laseen, full of run at the rail while third going into the far turn, finally got out a sixteenth of a mile from home but couldn't quicken enough to threaten for the win, finishing a neck behind Elysea's World.
Ridden by Victor Espinoza, Laseen was off at 9-1 and paid $3.60 to show.
ROBERT J. FRANKEL STAKES QUOTES
GRADE III, $100,000
JOCKEY QUOTES
BRICE BLANC, MIDNIGHT CROSSING, WINNER: "I've worked her in the morning and she's very delicate, very light-mouthed. On paper it didn't look like there was much speed so I thought Joe (Talamo on Responsibleforlove) would be on the lead. When I went into the paddock, Richie said, 'Just don't get into a speed duel. Don't fight her. Get her in a comfortable spot.'
"She broke a little awkwardly but I gave her a little squeeze and she just jumped on the bridle. I just pitched her head and when I hit the first eighth of a mile she started to relax. She kept relaxing and looking around and I could tell I had a lot of horse. At the three-eighths pole, that's when the running started. She was there for me. There were some nice fillies that finished strongly. I was a little worried that they'd out-kick me but she kept really digging in.
"So far I think I'm happy as my own agent. I've won three stakes the past month, so I think he's doing a good job (smiling). Thanks to Bing (Bush, see quote below) and a bunch of his owners for giving me the opportunity with these two fillies today. And, Richie gave me a chance again, riding some nice horses and that's really all it takes. Little by little, things are picking up again."
JAVIER CASTELLANO, ELYSEA'S WORLD, SECOND AS 8-5 FAVORITE: "The slow pace was really hard to overcome. Especially in a small field, I didn't want to change my filly's style of running. She likes to come from off the pace and I thought, 'Hopefully, she can kick like she always does.' She did, but the winner didn't come back enough. I'm proud of the way my filly ran because she came running."
TRAINER QUOTES
RICHARD BALTAS, MIDNIGHT CROSSING, WINNER, AND GLIDING BY, FOURTH: "I just told the jocks to go at whatever (pace) they were comfortable. It was a good job by Brice (Blanc on Midnight Crossing). The other horse (Gliding Buy) was sitting perfect, but just wasn't good enough, although she didn't run bad, either. We're very happy."
BING BUSH, ABBONDANZA RACING, MIDNIGHT CROSSING, WINNER: "It was just a question of if she had enough speed and enough room and she did today.
"You know, I don't know if I can put it into words. I'm just so thankful for this group. Yes, we're owners together but we're friends, we're really friends. For us to be able to go through this experience together is just wonderful, it's beyond words."
NOTES: The winning owners are Abbondanza Racing, LLC and Medallion Racing. Baltas won the Frankel last year with Goodyearforroses.
About Us
Santa Anita Park is a Stronach Group company, North America's leading Thoroughbred racetrack owner/operator. The Stronach Group racetracks include Santa Anita Park, Gulfstream Park & Casino, Golden Gate Fields, Portland Meadows, Laurel Park and Pimlico Race Course, home of the world-famous Preakness. The company owns and operates the Palm Meadows Training Center in Florida, and is one of North America's top race horse breeders through its award-winning Adena Springs operation. The Stronach Group is one of the world's largest suppliers of pari-mutuel wagering systems, technologies and services. Its companies include AmTote, a global leader in wagering technology; Xpressbet, an Internet and telephone account wagering service; and Monarch Content Management, which acts as a simulcast purchase and sales agent of horseracing content for numerous North American racetracks and wagering outlets. The Stronach Group is North America's premier supplier of virtual online horseracing games, as well as a leading producer of social media content for the horseracing industry.