By Mike Henry —-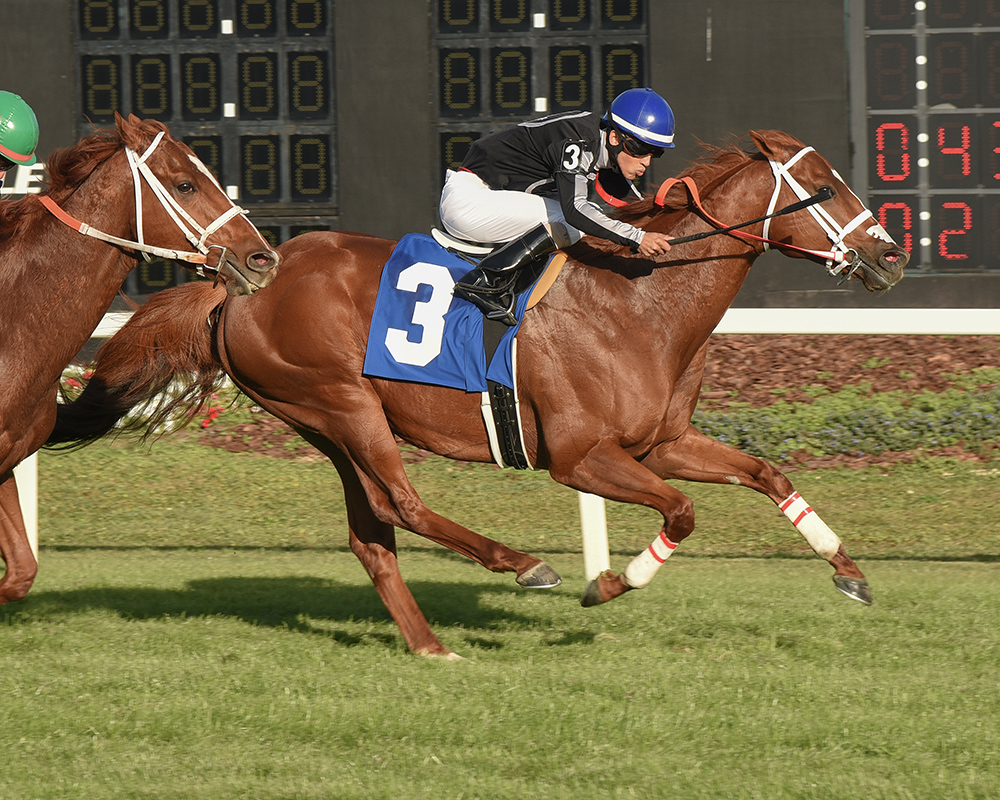 Pay Any Price; Tampa Bay Downs Photo
OLDSMAR – Before he was claimed for $25,000 in July of 2016, according to co-owner Rich Averill, Pay Any Price was his own worst enemy.
"He was a complete basket case," Averill said after the 7-year-old Florida-bred gelding held on for a dramatic half-length victory from Jaguar Poz in the $100,000 Turf Dash Stakes at Tampa Bay Downs. "You couldn't saddle him without a fight, he wouldn't go in the barn, he wouldn't train and you could only work him out of the gate.
"They (trainer Ralph Ziadie and his crew) just got him to relax and be comfortable and be a normal horse. Now, instead of exerting all his ability on other things, he is exerting his talent on the races. He is just a different horse," Averill said.
The victory by Pay Any Price and a triumph by 3-year-old filly Smiling Causeway in the $100,000 Lightning City Stakes, both 5-furlong races on the turf, highlighted a 10-race card as the Oldsmar oval prepares to ring out 2017 with Sunday's 10-race New Year's Eve card.
Pay Any Price improved to 11-for-18 lifetime, including a 6-for-9 record with four stakes victories since being claimed, the most recent three in a row. He paid $3 to win after completing the distance in 55.63 seconds, a second off the stakes and course record. Conquest Enforcer, a 2016 Sovereign Award winner as Canada's Champion Grass Horse, closed belatedly for third in the 11-horse field, with American Sailor fourth.
Averill, who owns Pay Any Price under his Averill Racing banner in partnership with Matties Racing Stable, owns Rich Averill Masonry in nearby Bradenton, Fla., and likes spreading the joy and excitement. He shared the winner's-circle fun with about 48 family members, friends and co-workers, causing Pay Any Price to act a bit skittish upon entering the enclosure.
Although Pay Any Price slowed late after an exacting speed duel with long shot American Sailor (opening fractions of 21.29 seconds for the quarter-mile and 43.86 for the half), winning jockey and regular pilot Edgard Zayas had a firm belief the son of Wildcat Heir-One to Five, by Naevus, would stay firm in the face of any late challenges.
"I think the class of my horse won the race," said Zayas. "I thought the turf was a little soft today, and that along with the pressure they put on him might have caused him to stop a little bit. But he was the same guy he always is out of the gate and the first half of the race, and I think if they got close to him late, he was going to open up again."
Ziadie, who remained in south Florida. had been pointing Pay Any Price to last month's Breeders' Cup Turf Sprint at Del Mar before he developed a foot abscess. Averill said the long-range plan is to bring Pay Any Price up to next fall's Breeders' Cup Turf Sprint at Churchill Downs, where he hopes the chestnut can show "he is one of the best turf sprinters in the country."
Likely first, though, is the $125,000 Gulfstream Park Turf Sprint Stakes on Jan. 27.
Earlier on today's card, at about the 1/8-mile pole of the $100,000 Lightning City Stakes, doubt remained whether pace-setter and Lightning City Prep winner Everything Lovely could carry her speed the distance or one of her pursuers might catch her before the wire.
Then jockey Daniel Centeno asked 3-year-old Smiling Causeway for her best, and all the suspense vanished.
Angling out for her decisive kick, the Audley Farm Stable-owned Smiling Causeway drew clear for a length-and-a-half victory from fast-finishing long shot Wealthy Shipman to post an impressive victory in 55.82 seconds for the 5 furlongs on the turf, .32 seconds off the stakes record. Cousin Claire put in a mild rally to grab third, ahead of Everything Lovely in the seven-horse field.
The Lightning City is the first stakes victory for Smiling Causeway, a Kentucky-bred daughter of Giant's Causeway-Shandra Smiles who had finished second in stakes competition last summer at Laurel and Belmont. She is 4-for-7 lifetime.
Bet down late, Smiling Causeway paid $3.80 to win.
It marked the first Lightning City victory for both Delacour and Centeno.
"Any worries?" Delacour repeated with a chuckle. "Well, that is the first time she came from that far behind to win (about five lengths back nearing the quarter-mile pole), so you always worry a little," Delacour said. "But she looked comfortable, and when the other horses started coming back, it looked like Danny had a lot of horse.
"Plus, (trainer) Kathy DeMasi's horse (Everything Lovely) has a lot of experience, and when you're facing those older horses with a 3-year-old, you are usually at a little bit of a disadvantage. But this was the first time she got to go 5 furlongs, which I always thought was her true distance," Delacour said.
Centeno rode Smiling Causeway like a 9-10 shot and said he was never overly concerned about giving her an opportunity to produce her best effort during the race.
"She broke a little slow today, but I knew some of the others were going to send their horses so I just let her run comfortable," Centeno said. "When we turned for home and I asked her, she went by everybody like nothing.
"I always had plenty of horse, and she galloped out strong after the wire," he said.
Delacour said Smiling Causeway probably will get a break until The Very One Stakes at Pimlico in May.
Around the oval. Pablo Morales notched victory No. 200 of 2017, riding 4-year-old filly Orientate to Luv to victory in the third race, a 7-furlong allowance/optional claiming contest, for owner Blazing Meadows Farm and trainer Tim Hamm.
Morales is 18th in North America this year in victories. "I know a lot of jockeys just blow by it every year with no problems, but getting to 200 is definitely huge for me It's something I'm going to remember forever, and hopefully I can do it again," said Morales, whose previous single-year best was 183 in 2012.
Morales finished third in last season's Tampa Bay Downs standings with 74 victories and won the Presque Isle Downs title with 124 winners.
Antonio Gallardo rode three winners for the second consecutive day. He captured the second race on Master Chief, a 3-year-old colt owned by Emerald Spring Stable and trained by Darien Rodriguez. Master Chief was claimed from the race for $8,000 by trainer Elliot Sullivan for new owner Bruno Schickedanz.
Gallardo also won the fifth race on 2-year-old gelding Seeyainthetestbarn for owner W. Mike Anderson and trainer Efren Loza, Jr., and took the ninth on R True Talent, a 2-year-old Florida-bred filly owned by Averill Racing, CCF Racing Stable and K Lauren Racing and trained by Gerald Bennett.
Jesus Castanon rode two winners today. He was aboard Im Chillin in the fourth race on the turf for owner Tristar Stables and trainer Ron G. Potts, who also conditions Turf Dash runner-up Jaguar Poz. Castanon added the 10th race on the turf with 3-year-old Florida-bred filly Queen of the Party for owners Betty Hamilton and Kathleen O'Connell, the filly's trainer.
There are 10 races scheduled on the first Sunday card of the 2017-2018 Oldsmar meeting, a New Year's Eve program that returns Tampa Bay Downs to its customary four-days-a-week schedule (Wednesdays, Fridays, Saturdays and Sundays).
Tampa Bay Downs will also conduct Thoroughbred racing on a pair of Thursdays, Feb. 15 and Feb. 22. The track is open every day for simulcast wagering, no-limits poker action and tournament play in The Silks Poker Room and golf fun and instruction at The Downs Golf Practice Facility.

Cover Photo: Smiling Causeway; Tampa By Downs Photo