By Jennifer Hoyt —-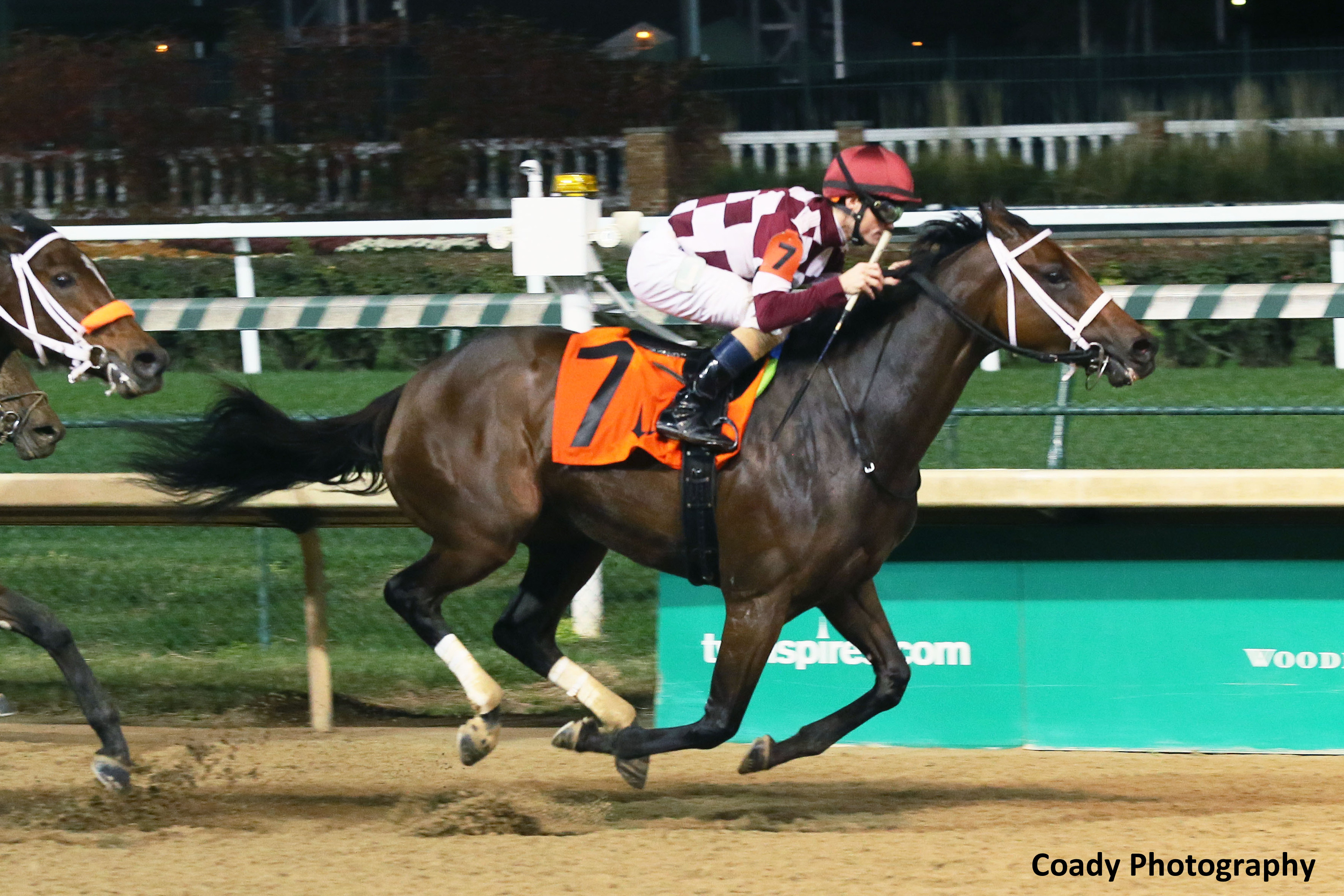 Stakes Winner Farrell Gets Acquainted With Oaklawn Ahead of Pippin
Farrell took her first spin over the Oaklawn surface Wednesday morning in preparation for her 4-year-old debut in Saturday's $125,000 Pippin Stakes for older fillies and mares.
Trainer Wayne Catalano said his star filly schooled in the paddock and galloped a "mile and change" over the fast-rated surface. She arrived at 6 p.m. (Central) Tuesday, Catalano said, after being based with his string at Fair Grounds, where she was a three-time stakes winner last year.
Farrell was one of the country's top 3-year-old fillies, winning four stakes races, including the $200,000 Chilukki (G2) Nov. 4 at Churchill Downs to conclude her 2017 campaign.
"I would have liked to have kept her at the Fair Grounds, but there's not a program for older horses," Catalano said. "We'll look at the series here. Our main goal is to win a Grade 1, and there's a Grade 1 here, the Apple Blossom."
Catalano said Farrell has matured in advance of her 2018 debut, adding she's "more settled" and "stronger."
Regular rider Channing Hill, the trainer's son-in-law, will have the mount on Farrell, who is campaigned by her breeder, the Coffee Pot Stables of Robert Cummings and Annette Bacola.
Also entered in the 1 1/16-mile Pippin are Rachel's Temper, Terra Promessa, Impasse, Streamline, Mo's M V P, Ruby Sioux, Ever So Clever, Bootsy's Girl, Miner's Cat and Someday Soon.
Streamline won the Pippin in 2016 for trainer Brian Williamson. Terra Promessa won last year's Pippin for Hall of Fame trainer Steve Asmussen
Probable post time for the Pippin, which goes as the eighth of nine races, is 4:38 p.m. (Central).
Following the Pippin, Oaklawn's series of two-turn stakes races for older fillies and mares continues with the $150,000 Bayakoa (G3) Feb. 17, $350,000 Azeri (G2) March 17 and $700,000 Apple Blossom Handicap (G1) April 13.
Back to Work
Grade 1 winner Sporting Chance returned to the work tab Tuesday morning at Oaklawn, breezing 3 furlongs in :37 over a fast track for Hall of Fame trainer D. Wayne Lukas, who is targeting the $500,000 Southwest Stakes (G3) Feb. 19 and $900,000 Rebel Stakes (G2) March 17 for the colt's 3-year-old debut.
The son of Tiznow hasn't started since winning the $350,000 Hopeful Stakes (G1) Sept. 4 at Saratoga after having a bone chip from a knee removed shortly after the race, Lukas said. The colt arrived in Hot Springs early last month, and his time Tuesday equaled the second-fastest of 19 works at the distance.
"He hasn't missed a day, even with the cold weather," Lukas said Monday morning. "We were able to do something in the barn, so he's doing fine."
Sporting Chance, a winner of 2 of 3 starts overall, was purchased for $575,000 at the Keeneland September Yearling Sale by the trainer's longtime clients, William Mack and Robert Baker.
One Two, One Two …
Under the guidance of agent Ruben Munoz, Ricardo Santana Jr. and Ramon Vazquez have dominated Oaklawn's rider standings the last few years, finishing first and second, respectively, in 2015, 2016 and 2017.
Doing some early handicapping on the 2018 race, Munoz noted that the field will have a head start since both Santana and Vazquez will be serving three-day riding suspensions stemming from the 2017 meeting.
Munoz said Santana will substitute two of his days by riding Untrapped in Friday's $125,000 Fifth Season Stakes and Terra Promessa in Saturday's $125,000 Pippin Stakes. Santana is scheduled to serve his first day Sunday, Munoz said, return Monday to ride Combatant in the $150,000 Smarty Jones Stakes and take his final two days Jan. 18 and Jan. 19.
Munoz said Vazquez will serve his suspension Friday – opening day of the scheduled 57-day season – Saturday and Sunday and return Monday.
Asked if he could run 1-2 again, Munoz said he had, "No idea."
"I've got the leading trainer with one jock and the leading owner with another," Munoz said. "I'm happy. There's a lot of new jockeys. I won't be able to ride for a lot of other people because they've committed to their riders, so you'll get something else somewhere."
Santana, seeking his sixth consecutive Oaklawn riding title, rides regularly for Hall of Fame trainer Steve Asmussen. Asmussen, who is seeking his ninth Oaklawn title since 2007, trains Untrapped, Terra Promessa and Combatant.
Vazquez rides first-call for Danny Caldwell, Oaklawn's leading owner the last four years.
Santana ($8,923,191) and Vazquez ($6,575,373) both set career highs for purse earnings last year, ranking 16th and 27th nationally, respectively, according to Equibase, racing's official data gathering organization.
"They're both healthy, they're both light, they're both strong," Munoz said. "I wouldn't trade places with anyone."
Richard Eramia, who rode nine winners in his Oaklawn debut last year, will also serve a three-day riding suspension stemming from the 2017 meeting. Eramia returns Monday, said his agent, Scott Hare.
Finish Lines
Untrapped is the 3-1 program favorite for Friday's $125,000 Fifth Season Stakes for older horses. … Trainer Donnie K. Von Hemel has 293 career victories at Oaklawn, according to Equibase, racing's official data organization. … Cosmic Burst remains on target to make her 3-year-old debut in the $125,000 Martha Washington Stakes Feb. 10, Von Hemel said moments before her half-mile work in :50.20 Wednesday morning. Cosmic Burst won the $100,000 Trapeze Stakes Dec. 17 at Remington Park in her last start. … Domain's Rap, winner of the $125,000 Fifth Season Stakes last year at Oaklawn, worked a half-mile in :53.20 Wednesday morning for Federico Villafranco and Danny Caldwell, Oaklawn's leading owner the last four years. Domain's Rap, a 10-year-old gelding, is training for a possible comeback after being retired last summer because of a suspensory ligament injury, Caldwell said. … Horses are on the grounds for high-percentage trainer Al Stall. The same stalls in the Lady's Secret barn had been the longtime Oaklawn home of trainer Lynn Whiting, who died last April. … West Virginia Derby winner and Oaklawn maiden special weights graduate Colonelsdarktemper is jogging in preparation for his 4-year-old debut, but isn't close to his first breeze, trainer Jinks Fires of Hot Springs said Monday morning. Fires said Colonelsdarktemper recently resumed training after suffering a leg injury (stress fracture) in the $400,000 Oklahoma Derby (G3) Sept. 24 at Remington Park. …Brett Birzer, the son of longtime Oaklawn jockey Alex Birzer, said he plans to return to Hot Springs shortly after his scheduled Feb. 10 graduation from Council Grove (Kan.) High School to resume his riding career. Birzer, 17, said in a text message Sunday that he began taking senior-level classes as a sophomore in order to graduate early. He won three races last summer at Prairie Meadows and was getting on horses at Oaklawn during the holiday break from school. Alex Birzer has 3,102 career victories since 1992, including 309 at Oaklawn, according to Equibase, racing's official data gathering organization. He won his 3,000th race at last year's Oaklawn meeting. … Perplexed, who paid $23250 in his maiden victory last July at Saratoga, is one of seven horses on the grounds for Gary "Red Dog" Hartlage, Oaklawn's co-leading trainer in 1997.