By Ryan Martin —-
• Casse Will Likely Opt For Silverbulletday With Wonder Gadot
• Texas Invaders Analyze This Jet, Terra's Angel Step Up In Lecomte, Silverbulletday
• Hollendorfer Ships Instilled Regard For Lecomte
• Mom's On Strike, Giada Vegas Put Winning Streaks On The Line In Marie Krantz
• Yockey's Warrior Looks For Another Fair Grounds Win In Kenner
• Beauty Boy Lights Up Tote Board In Thursday Afternoon's Third Race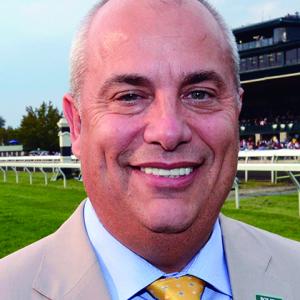 Mark Casse; Keeneland Photo
CASSE WILL LIKELY OPT FOR SILVERBULLETDAY WITH WONDER GADOT
Assuming there are no major defections in Saturday's Grade III $200,000 Lecomte Stakes, trainer Mark Casse will keep two-time graded stakes winner Wonder Gadot against her female counterpart in the $125,000 Silverbulletday Stakes.
"As long as the (Lecomte) stays intact and there are no major scratches, we're running against Silverbulletday," said Casse, who also will saddle Heavenly Love in the same event.
While the daughter of Medaglia d'Oro will likely not run against the boys on Saturday, Casse did not rule out a start against colts in the future for his two-time graded stakes-winning filly.
"You play one race at a time and right now we just want to run well tomorrow," Casse said. "She's a filly that we think the farther the better. (Owner) Gary (Barber) is a real sportsman and he likes challenges, so we'll see how it plays out."
As of Friday morning, the only scratch out of the Lecomte is Donegal Racing's Ciaran, allowing also eligible entrant Trigger Warning to draw into the race.
Casse went on to discuss future plans for Live Oak Plantation's Gr. I Breeders' Cup Mile winner and Eclipse Award finalist for Champion Turf Male World Approval and stated that he make his 6-year-old debut in the Gr. III $175,000 Tampa Bay Stakes on Feb. 10 at its namesake track before a planned journey to take on some of the world's best turf horses in the Group I $6 million Dubai Turf Cup at Meydan Racecourse on Mar. 31.
"He's doing well, we're really proud of him," Casse said. "Obviously we know that he's not going to be Horse of the Year but we're proud just to be in that company. We'll run him in the Tampa race and then he's going to Dubai."
TEXAS INVADERS ANALYZE THIS JET, TERRA'S ANGEL STEP UP IN LECOMTE, SILVERBULLETDAY
The Fair Grounds Race Course & Slots has a tendency to attract Kentucky Oaks and Derby aspirants from all different parts of the country for their local prep races. This year would appear to be no exception as Gr. III Lecomte entrant Analyze This Jet and Silverbulletday contestant Terra's Angel will ship to the New Orleans oval from Texas for trainer Terry Eoff with hopes to prove themselves competitive among some of the top horses on the Oaks and Derby trail.
Owned by Eoff in partnership with Johnnie Evans, Analyze This Jet will seek redemption in the Lecomte following a well-beaten seventh-place finish in Remington Park's Clever Trevor Stakes on Nov. 3. The son of Overanalyze broke his maiden sixth time out over the Oklahoma oval by 6¼ lengths, before returning to the winner's circle in the El Joven Stakes on the Retama Park turf.
"We're taking a shot so we'll test our two horses and see where we're at, but you never know," Eoff said. "They're training well and (Analyze This Jet) in particular is training real well right now and I think that he'll like the distance. The colts in there are pretty tough, you got (Steve) Asmussen with three and (Larry) Jones has three in there as well so it's going to be a tough race, but he's training real well right now so we're going to give it a shot."
A daughter of Drosselmeyer, Terra's Angel was a well beaten seventh last out in the Trapeze Stakes at Remington Park on Dec. 17. She broke her maiden in her career debut at Lone Star Park last May by three lengths for Eoff before being transferred to the barn of Dallas Keen. In three starts for Keen, she was a distant third in Del Mar's Gr. II Sorrento Stakes before switching to the turf at the San Diego oval where she won the Juvenile Fillies Turf Stakes at 19-1. Following that effort, she was a well-beaten sixth against Grade I company in Santa Anita's Chandelier Stakes. Terra's Angel was reunited with trainer and co-owner Eoff next out when she won the La Senorita Stakes on the turf at Retama Park, her last start before the Trapeze Stakes.
"She was third in a Grade II (Sorrento) in Cali on dirt so I think that she can run on dirt so we're trying with her one more time," Eoff said. We're going to try to come from out of it and run from off the pace, that's our game plan. It's a tough race, you got (Gr. I Breeders' Cup Juvenile Fillies third-place finisher) Blonde Bomber and (two-time graded stakes winner) Wonder Gadot in there so it's a salty little race. We hope (the long stretch suits her), I've never raced at the Fair Grounds so if we can get her to lay back and make a big run at the end that would be great."
Jockey Sasha Risenhoover will be shipping to the Fair Grounds to ride both Analyze This Jet and Terra's Angel.
HOLLENDORFER SHIPS INSTILLED REGARD FOR LECOMTE
Trainer Jerry Hollendorfer will send California invader Instilled Regard to the Fair Grounds Race Course & Slots for the Grade III $200,000 Lecomte Stakes on Saturday, Jan. 13.
Slated as the 4-1 second choice in the first of three local preps on Churchill Downs' Road To The Kentucky Derby, the OXO Equine LLC-owned son of Arch last raced in the Gr. I Los Alamitos Futurity, where he finished third beaten three-quarters of a length, but was elevated to second after winner Solomini was disqualified for interference in the stretch.
Stretching out to two turns appeared to make a pretty big difference for Instilled Regard, who was a lucrative $1.05 million purchase at the Ocala Breeders' Sale in March 2017. At third asking, he broke his maiden by 4 ¼ lengths at Santa Anita which also was his first try around a two-turn distance. Prior to his maiden victory, he was second beaten a half-length to Triple Crown winner American Pharoah's full-brother St. Patrick's Day in his career debut which took place at Del Mar on Sept. 2. Next out, he was third beaten six lengths behind graded stakes-placed Mourinho.
"We thought that when we had stretched him out to two turns he would run better and he did," Hollendorfer said. "We talked it over with the owners and we both figured that this would be a good race for him. They certainly put a lot of money into the horse so the expectations were that he would be a good prospect."
Hollendorfer also shipped Seattle Serenade to the Fair Grounds for the $75,000 Louisiana Stakes. The 6-year-old son of Smart Strike is based at Hollendorfer's northern California division at Golden Gate Fields. Two starts ago, he scored a stakes win in the Bull Dog Stakes at Fresno which is his lone victory against stakes company.
"There wasn't a whole lot out in California for him so we figured that we would take a shot and run him (in the Louisiana Stakes), Hollendorfer said."
Jockey Javier Castellano is aboard both Hollendorfer's entrants on Saturday.
MOM'S ON STRIKE, GIADA VEGAS PUT WINNING STREAKS ON THE LINE IN MARIE KRANTZ
Brad Grady and Carl R. Moore Management's Mom's On Strike will go for her third straight victory in Saturday's $75,000 Marie G. Krantz Memorial Stakes, where she will break from post four under Adam Beschizza as the lukewarm 4-1 morning line favorite.
The daughter of First Dude enters the mile-and-a-sixteenth event on the Stall-Wilson Turf Course off of a pair of allowance wins on turf, which took place over Churchill Downs's Matt Winn Turf Course on Nov. 26 and most recently at the Fair Grounds on Dec. 23.
Such winning ways were not always the case, however. In July of last year, Mom's On Strike returned to racing action following a nine-month layoff where she was second behind stakes-placed Ack Naughty before returning to the upper state New York oval to finish fifth as the lukewarm favorite.
"Her first couple of trips back (off a six-month layoff) were just really tough racing luck but had had a clean trip the last two times and she finally got to show her ability," trainer Joe Sharp said. "Prior to that, it was kind of frustrating just knowing how good that she was and knowing how precocious she was in her first starts when she broke her maiden and such and kind of getting bad trips, but you can only make so many excuses. She's been a bit of a hard luck filly, so it's nice for her to start developing a consistent pattern now."
Mom's On Strike has yet to win a stakes race, but acquired some black type when finishing a narrow second in the Pebbles Stakes at Belmont Park in Oct. 2016, her last start before her nine-month hiatus.
"She's obviously has some black type now so she's just stakes placed now so a stakes win would be good for her moving forward," Sharp said. "I think that her best years are still ahead of her and if you watch her races she's still a little green. So she's still learning what it's all about."
If Mom's On Strike wishes to keep her good thing going, she'll have to outrun Dixiana Farm's Giada Vegas who will take a shot at her fifth straight victory. Trained by Mark Casse, the 5-year-old daughter of Scat Daddy was based at Woodbine in the fall, where she won three straight allowance races, all of which were on the Polytrack at a mile-and-a-sixteenth. In her last effort, she stepped up against stakes company for the first time in the Blushing K.D. Stakes on the Stall-Wilson Turf Course, which she won by one length.
"She came out of that race really well, were very happy with her," Casse's assistant David Carroll said. "The team has done a great job of getting her ready and we're confident that she can do it. The team at Woodbine did a great job with her and then she went down to Ocala and they continued their great work. All credit goes to the team, it just shows you how great a team Mark has put together. The filly is progressing and (jockey) Corey (Lanerie) gave her a great ride (in the Blushing K.D.)."
Lanerie will attempt to mimic said "great ride" when he returns the saddle when breaking from the nine-hole as the 9-2 morning line second choice.
YOCKEY'S WARRIOR LOOKS FOR ANOTHER FAIR GROUNDS WIN IN KENNER
Trainer Al Stall, Jr. believes that Fair Grounds sprint specialist Yockey's Warrior has improved since a long layoff last year when he had throat surgery and he would appear to be correct.
Owned by Madison S. Landry and Bernard M. Broussard, the 6-year-old son of Warrior's Reward has won both of his starts since his surgery – a 6½-furlong allowance race at Keeneland on Oct. 22 and a five-length win in the Fair Grounds' Thanksgiving Handicap on Nov. 23, which he won for a second straight year.
"He's been real straight forward right now," Stall said. "Everything fine and he's been training well. When he can breathe he's a tough horse. He had throat surgery that's really helped him. He's won both of his races since he had it so that seems to be the key."
Yockey's Warrior boasts a record of three wins in four career starts over the Fair Grounds main track. He has won five of his six starts over the Kenner's six-furlong distance. Jockey Miguel Mena will be up from post four as the 4-5 morning line favorite.
BEAUTY BOY LIGHTS UP THE TOTE BOARD IN THURSDAY AFTERNOON'S THIRD RACE
Not only did Double Dan Farm LLC's Beauty Boy spring a major upset in Thursday's third race, he did so in superb fashion taking the $20,000 maiden claiming event by 11½ lengths.
The Louisiana-bred son of Royal Strand (Ire) went off at odds of 56-1 and was stretching out in distance for the one mile event for Folsom-based trainer Delmar Caldwell.
"That was pretty nice," Caldwell said. "I was very pleased but I think that trainers take too much credit. It's the people who do all the work- the grooms, the exercise riders, and the (blacksmiths) that should get credit for this. This is a nice horse that is bred to go long so the longer the race, the better he'll be."
Thursday's event was the fifth career start for Beauty Boy, who entered the race off of a well-beaten ninth in December.
________________________________________