By Mike Henry —-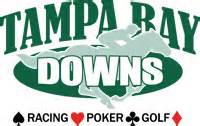 OLDSMAR, FL. – Occasionally, when time allows, trainer Kathleen O'Connell reflects on the swift passage of years since she arrived at Tampa Bay Downs (then Florida Downs) from Michigan in 1976 to gallop horses.
She says it feels "unreal" that more than 40 years have elapsed, a period in which O'Connell and Tampa Bay Downs became as inseparable as pancakes and syrup. "The racing office was a little trailer on that road," she said, gesturing from a spot outside Barn 25 on the backside, "and the kitchen was over there next to the track.
"It's absolutely amazing – there was nothing in Oldsmar then, and look at how it's grown. But this has always been a great place to train," O'Connell said. "They (the track's maintenance crew) do an outstanding job of keeping the track up, and it is what I consider a very safe track to train on.
"Whether it's the sulfur water, the great condition of the track or the pristine turf course, it's a great place to winter, and the people help make it a welcoming environment," O'Connell said.
With a meeting-high 15 victories from 54 starters, it's clear many of her horses share her enthusiasm for their current home. O'Connell, who is atop the Tampa Bay Downs standings, has been selected as the Tampa Bay Brewing Company Trainer of the Month.
"My team is very pleased and pumped at what we've accomplished thus far," said O'Connell, who trains a 40-horse string in Oldsmar and another 22 or so Thoroughbreds at Gulfstream Park West in south Florida. "It's a combination of horses coming around and the fact I have great owners to train for, people who understand that we can't have all stakes horses and we run horses where we feel they can be effective.
"But it will be difficult to win (the title). I haven't claimed a horse since the meet started. I train for a lot of breeders and for people who have just a couple of horses, and they probably wouldn't look to replace them" (if another trainer claimed them).
O'Connell previously won Oldsmar titles in 1998-1999 and 2009-2010 (tied with Jamie Ness), a season in which she was the first woman to capture a training title at Calder Race Course in Miami.
O'Connell's quick start this season is a byproduct of the planning and preparation she, her long-time Tampa Bay Downs assistant, Brian Smeak, and her crew have put in since weeks before the meeting. With so many horses in her care, O'Connell relies on Smeak; her Gulfstream Park West assistant, Jesus Herrera; and a large contingent of exercise riders, grooms and hot walkers to all make a contribution.
"Everybody can add something. Everybody's eyes are important," O'Connell said. "Whether it is Brian, or a hot walker, or a groom, it's the people who communicate with the rest of the team who make it work for everybody."
O'Connell has also benefited from the return to Tampa Bay Downs of three-time champion jockey Antonio Gallardo, whom she helped get rolling during the 2012-2013 Oldsmar meeting. "There are a lot of good riders, but he has always been one of my favorites. He has a good set of hands and gets the most out of a horse, and it's always helpful when you have jocks who can come back and give good feedback," she said.
Her stable this season consists mostly of "blue-collar" type horses, but O'Connell has proved time and again she is equally adept at developing and handling major stakes winners. In 2011, she saddled 43-1 shot Watch Me Go – bred and owned by major client Gilbert Campbell – for a Grade II Tampa Bay Derby victory, which earned them a trip to Louisville for the Kentucky Derby.
More recently, O'Connell conditioned Lady Shipman, a freakishly fast filly who finished second as a 3-year-old to Mongolian Saturday in the 2015 TwinSpires Breeders' Cup Turf Sprint at Keeneland after six prior stakes victories.
O'Connell has also trained the likes of multiple-graded stakes winner Blazing Sword, multiple-stakes winner and 2013 Breeders' Cup Juvenile Fillies participant Scandalous Act and Ivanavinalot, a Grade II winner after whom a new Tampa Bay Downs stakes race is named: the May 5 Florida Thoroughbred Breeders' and Owners' Association Ivanavinalot Florida Sire Stakes.
For all her success, O'Connell has lost with about 78 percent of her starters at the current meeting; it's the reality of the sport. What transpires in the aftermath of defeat helps define her longevity and overall success.
"You always look to see if there is something you could have done more, if you spotted the horse right, and so on," she said. "Sometimes you're a victim of the trip, how the race unfolds. Maybe you're thinking seven furlongs would be a perfect distance, but the only race they have is six-and-a-half, so you're closing at the end and finish second, but you're picking up a check and making your owner happy."
But that isn't all. A horse might develop a foot problem or come down with a sickness. Every morning at Barn 25, there are 40 horses to check on, 40 spirited, four-legged athletes that need the kind of individual attention O'Connell has devoted her life to.
"They all have different personalities and they all have different needs," O'Connell said. "They are a lot like kids – some are very confident, while others might have talent, but maybe aren't so confident and they're scared of horses and they might need blinkers.
"It's just trying to figure it all out and being around them, and I feel very blessed because I have a lot of horses to train with so you can get a better gauge. I'm just very grateful to the people who have supported me in my career, from the owners to the fans to my crew that works for me."
Around the oval. A lineup of 10 3-year-old colts and geldings is set for Saturday's $125,000, 7-furlong Pasco Stakes, one of three stakes races on the Skyway Festival Day card. The Pasco is the eighth race on an 11-race card beginning at 12:12 p.m.
Also on tap Saturday are the $125,000, 7-furlong Gasparilla Stakes, for 3-year-old fillies, and the $50,000, mile-and-a-sixteenth Wayward Lass Stakes, for older fillies and mares. The Gasparilla will be contested as the third race and the Wayward Lass is the 10th race.
Pedro Cotto, Jr., and Samy Camacho each rode two winners today. Cotto won the first race on Miss Rickles, a 6-year-old mare owned and trained by M. Anthony Ferraro. Cotto added the fifth aboard Broad Blue Line, a 3-year-old Florida-bred colt owned by Polk, Biondo, Oak Rock Racing, Morrison and Cherrywood Racing Stables and trained by Michele Boyce.
Camacho captured the second race on Jokers Queen, a 4-year-old Florida-bred filly owned by George Santis and trained by Kenneth Westlye. Camacho also won the fourth on Touchet, a 3-year-old filly owned by Kenneth H. Davis and Gary Logsdon and trained by Sandra Slivka.
Thoroughbred racing at Tampa Bay Downs continues Friday with a nine-race card beginning at 12:25 p.m. The track is open every day for simulcast wagering, no-limits poker action and tournament play in The Silks Poker Room and golf fun and instruction at The Downs Golf Practice Facility.