By Ryan Martin —-
• Brad Cox Sitting On A Big Day Saturday
• Smart Response, Telekinesis Impress Connections In Career Debuts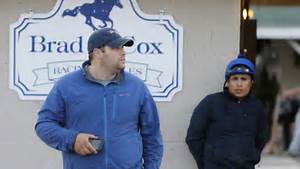 Brad Cox; Coady Photography
BRAD COX SITTING ON A BIG DAY SATURDAY
Trainer Brad Cox could add to what has been a highly rewarding meet for the current leading trainer, when he sends out multiple solid stakes contenders on Fair Grounds Race Course & Slots' Louisiana Derby Preview Day Presented by Lamarque Motor Company – next Saturday, Feb. 17.
In the $50,000 Colonel Power Overnight Stakes, Cox will be represented by Klein Racing's Will Call, who will make his stakes debut in the five-and-a-half furlong turf event on the Stall-Wilson Turf Course. He is an undefeated 2-for-2 since switching to the grass. Both starts took place over the Fair Grounds lawn at the five-and-a-half furlong distance.
"He's accomplished a lot in six starts and has a really nice race record underneath of him," Cox said. "He's obviously lightly raced compared to a lot of these other horses in that race. He got a good draw and he obviously likes the turf course down here. (Jockey) Shaun (Bridgmohan) rides him really well. He's going to run his race."
The 4-year-old son of Country Day recorded his final work for the stakes event on Saturday morning and went a half-mile in :49.00 over the main track. The race attracted a competitive bunch, including graded stakes winners Holding Gold who took last year's Gr. II Shakertown Stakes at Keeneland and Chublicious who won Laurel Park's Gr. II Frank De Francis Memorial Dash on the main track in November.
"He had a fantastic work (Saturday) morning and he seems to be set up for a big effort," Cox said. "It's a sold, solid race though. With him being lightly raced, we're just looking to take the next step to see if he can compete with these types of horses, which we think he can. Hopefully if he comes out in good order we can run in the (Gr. II $200,000) Shakertown at Keeneland (on Apr. 7)."
Two races later, Cox will saddle Allied Racing Stable LLC's homebred Inveniam Viam – a 6-year-old daughter of Half Ours who will look for her second stakes win against open company in the mile-and-a-sixteenth Albert Stall Memorial Stakes which carries a purse of $75,000 and is run on the Stall-Wilson Turf Course. Her lone victory against open stakes company took place in the Ellis Park Turf Stakes last summer at its namesake track.
Last out, she finished third to fellow Albert Stall Memorial entrants Hallie Belle and Giada Vegas in the Pago Hop Stakes on Dec. 30. Prior to that, she scored a duo of stakes wins on grass against fellow Louisiana-breds in the Si Cima Stakes on Nov. 18 and the Louisiana Champions Day Ladies Stakes on Dec. 9. Both starts took place at the Fair Grounds.
"She loves it down here," Cox said. "We thought about skipping this and pointing towards the ($60,000 Red Camilia Stakes on Mar. 17), but we had a good four weeks in between. She's doing well, she loves the course down here and I think with a good clean trip she can definitely be effective."
If Cox has one horse that has proven effective, it is Staton Flurry's Mr. Misunderstood. The 4-year-old son of Archarcharch is a remarkable 7-for-7 when racing on grass and will put his undefeated turf record on the line when he breaks from the six hole under Florent Geroux in the Gr. III $150,000 Fair Grounds Handicap.
The outstanding turf titan will also take aim at a sixth consecutive victory on Saturday and scored his last five wins over three different grass courses. He won the Super Derby Prelude Stakes and the Super Derby at Louisiana Downs last year before scoring another pair of stakes victories over Churchill Downs' Matt Winn Turf Course in the Jefferson Cup on Sept. 30 and the Gr. III Commonwealth Turf Stakes on Nov. 11. In his last effort, he took the Woodchopper Stakes on Dec. 30 over the local going.
Mr. Misunderstood worked a half-mile in :51.20 on Saturday morning and will be facing older horses for the first time in Saturday's race.
"(Mr. Misunderstood) is training really well," Cox said. "His last two works have been fantastic and he had a great work (Saturday) morning. He couldn't be doing any better. He's definitely stepping up a little bit; he hasn't faced the talent or the depth that he's going to face on Saturday. The first time against older horses tend to be deeper water and this will be the deepest water that he's been in. He looks amazing, he's happy and he's doing great mentally and physically."
Cox is also hoping to get a couple of his 3-year-olds on the Kentucky Oaks and Derby trail. In the Gr. II $200,000 Rachel Alexandra, Cox enters Monomoy Girl who will make her seasonal bow in the mile-and-a-sixteenth event, which awards fillies points on a 50-20-10-5 scale on Churchill Downs' Road to The Kentucky Oaks. She has already earned 4 points from her runner-up effort in the Gr. II Golden Rod at Churchill Downs, the only loss of her four-race career and also her lone start around two turns. Her first two starts were victories on turf and in her third race she switched to the main track to take the Rags To Riches Stakes at Churchill Downs. She breaks from the eight hole under Florent Geroux.
"I'm glad that we have a two turn race under our belt," Cox said. "I think we got a good post where can sit off of the speed or we can be the speed. She was a little unfortunate not to win the Golden Rod. I don't really know that we have any excuses other than we just got nailed right at the wire. She's done extremely well and she's ready to go."
Cox entered High North in the Gr. II $400,000 Risen Star Stakes, but will likely cross enter the 3-year-old son of Midnight Lute in the Gr. III $500,000 Southwest Stakes at Oaklawn Park.
"It's possible that we'll cross enter," Cox said. "We won't make a decision until later in the week, but he's been here at the Fair Grounds and doing really well. I'm still deciding on whether to breeze him (Sunday) or Monday, but he's doing really well."
Should High North opt for the Risen Star, he will break from the rail under Corey Lanerie, who guided the horse to his third out maiden win at Keeneland and a fourth-place finish in the Gr. II Kentucky Jockey Club Stakes at Churchill Downs.
The Risen Star is the second of three local preps on Churchill Downs' Road to The Kentucky Derby and awards the Top 4 finisher's points according to a 50-20-10-5 scale.
SMART RESPONSE, TELEKINESIS IMPRESS THEIR CONNECTIONS IN CAREER DEBUTS
Two impressive first out maiden winners shined in their career debuts on Friday afternoon's program at the Fair Grounds.
In the fourth race, Breeze Easy LLC's Smart Response dazzled over the Stall-Wilson Turf Course for trainer Joe Sharp.
"She really impressed us in the mornings and with her pedigree we assumed that she would like the grass," Sharp said. "First time out is first time out and we were really impressed. We were anxiously awaiting her debut. We were a little disappointed when racing was canc the day we entered. With that said it was probably a blessing in disguise as bad as the track was with a nice filly like this. It's the first horse that was sent to us by the new owners so it's nice to get lucky right away for them."
"I'll talk to the owners, probably point for the (a other than allowance race) in the next book and then see where the spring leads us," Sharp added.
In the following race, Stonestreet Stable's Telekinesis backed the confidence level of trainer Mark Casse's assistant David Carroll and when the 3-year-old son of Ghostzapper made his career debut a winning one on Friday afternoon.
Telekinesis was previously entered on Jan. 25, but was scratched after he flipped over in the paddock. Carroll was anxious to finally get a race under the horse's belt.
"We've like this horse from the beginning," Carroll said. "Unfortunately he had a setback last fall and then we got him back to the races here and then he flipped in the paddock and he scratched there so we were very anxious to get him to the races and get a race in him. It was a very nice performance but he is still very green."
A $470,000 purchase, Telekinesis' maternal grand dam is five-time graded stakes winner Gold Mover. Carroll did not specify where he would race next.
"Hopefully we'll build on this and tread slowly," Carroll said. "He's an Ontario bred so there are some options."
Photos Courtesy of Hodges Photography