By Mike Henry —-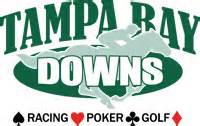 OLDSMAR, FL. – Tom Proctor took a few minutes to wax nostalgic Wednesday when informed of his selection as the Tampa Bay Brewing Company Trainer of the Month.
He recalled using the legendary Bill Shoemaker as his stable jockey when he started training in 1978. Another Hall of Fame rider, Eddie Delahoussaye, rode his first winner in California on a horse from Proctor's barn.
For horseplayers of a certain age, a mention of Proctor brings up the shocking 1994 Breeders' Cup Distaff victory at Churchill Downs by his 47-1 shot, One Dreamer, when jockey Gary Stevens stole to a long lead and lasted by a neck. One Dreamer was a homebred mare racing for Proctor's main client over the years, Leonard Lavin's Ocala-based Glen Hill Farm.
Had the conversation lasted, the subject undoubtedly would have turned to his father, Willard Proctor, who died in 1998 at 82 after a 60-year training career. The elder Proctor trained such notables as Convenience, Dike and Gallant Romeo; in 1972, Convenience defeated the older mare Typecast in a $250,000 (a lot of money back then) match race at Hollywood Park.
Also worth mentioning here, although not discussed Wednesday, is the day in 2011 at Tampa Bay Downs when two Proctor-trained mares, Keertana and You Go West Girl, finished in a dead heat in a turf allowance. "I just tell everybody I must be really good to be able to do that," Proctor said at the time, pausing for a moment before laughing uproariously to let everyone in on the joke.
Another side of Proctor was visible, at least over the telephone, three years ago when his 4-year-old gelding Avanzare won a Tampa Bay Downs turf contest for the trainer's 1,000th career victory. Proctor watched the race from his home in California, enabling long-time assistant Nicky Carrillo and other members of his Tampa Bay Downs crew to bask in the glory.
Carrillo has been with Proctor since 1989 and was One Dreamer's groom in 1994.
"Nicky tells me I am like his daddy, but I always tell him we are like brothers," Proctor said over the telephone that afternoon. "He is not afraid to tell me when he doesn't like something, and I can leave him in charge and trust him to do a great job.
"Winning 1,000 to me is basically a credit to a lot of nice horses, good owners, and the people who work for me and make good things happen."
Avanzare, for the record, went on to be a multiple graded-stakes winner.
Four words that are music to the ears of many Tampa Bay Downs handicappers – "Proctor on the turf" – have been heard with increasing regularity since the calendar turned to 2017. Among his seven victories from 12 starters here during the month, five came in turf races.
His horses' affinity for the grass was punctuated with a 3-for-3 performance on Jan. 21, the track's Skyway Festival Day card. In the sixth race, homebred Glen Hill Farm 3-year-old filly Art Institute won a maiden special weight contest, followed two races later by an impressive score by 5-year-old mare Enchanteresse in an allowance/optional claiming race.
Proctor sent out the classy graded/group stakes-placed Earring in the 10th race, and the 4-year-old filly proved much the best against a nice allowance field. That made Proctor 10-for-20 for the meeting, and kept his backers on high alert for the next sighting of one of his horses on the lawn.
In addition to One Dreamer and Avanzare, Proctor's list of top horses includes Grade I winners Purim, Marketing Mix, Chiropractor and Include Betty, along with multiple graded-stakes winners Pontchatrain; Global View; Wishing Gate; Banned; and Keertana. From 2012-2015, Proctor won 30 graded stakes.
Include Betty, who won the Grade I Mother Goose and the Grade III Fantasy as a 3-year-old in 2015, built a foundation for success at Tampa Bay Downs, breaking her maiden here and then winning the $100,000 Suncoast Stakes at odds of 18-1.
"Tampa Bay Downs is a good place to start out the year," Proctor said. "It's a good area, a good racetrack and a healthy environment for horses. And it's always nice to win races."
Carrillo keeps the Oldsmar home fires burning for his "daddy" when Proctor is at Gulfstream, as he will be Saturday, or one of the numerous other tracks at which he competes.t thing that ever happened to me. He is a smart guy and a sharp trainer, and he cares about every horse in the barn."
Wilkes prepares unbeaten McCraken for Sam F. Davis. Ian Wilkes has been down this road before. In 2007, as the assistant to Hall of Fame trainer Carl Nafzger, Wilkes brought Bessemer Trust Breeders' Cup Juvenile and Eclipse Award winner Street Sense to Tampa Bay Downs for the (then)-Grade III Tampa Bay Derby.
What ensued was, arguably, the most exciting stretch duel in the track's history, with Street Sense and jockey Calvin Borel edging Any Given Saturday by a nose over the mile-and-a-sixteenth distance in 1:43.11, then the track record.
Two races later, Street Sense won the Kentucky Derby Presented by Yum! Brands, the second such success for his connections – including Wilkes, who had galloped 1990 Run for the Roses winner Unbridled for Nafzger as a fledgling 24-year-old horsemen from New South Wales, Australia.
Wilkes has built a substantial resume for himself in recent years, including his stellar work with Fort Larned in 2012, when he engineered an outstanding season that culminated in a Breeders' Cup Classic victory at Santa Anita.
This year, Wilkes has classic aspirations with his 3-year-old unbeaten colt McCraken (like Fort Larned, a homebred from the Whitham Thoroughbreds operation of Janis Whitham), who he is pointing toward the Grade III, $250,000 Sam F. Davis Stakes at the Oldsmar oval on Feb. 11.
The Sam F. Davis Stakes is a "Road to the Kentucky Derby" points race, awarding points to the first four finishers toward qualifying for the starting gate at Churchill Downs on May 6.
McCraken, who won the Street Sense Stakes at Churchill Downs on Oct. 30, then concluded his 2-year-old campaign with a victory in the Grade II Kentucky Jockey Club Stakes on Nov. 26, is by Ghostzapper out of Ivory Empress, by Seeking the Gold. His jockey is Brian Hernandez, Jr., the regular pilot aboard Fort Larned.
McCraken breezed five furlongs Wednesday in 1:00.45 at Wilkes' Palm Meadows Training Center base in Boynton Beach, the fastest of 10 works that day at the distance.
"Everything went well. He was professional and relaxed, sat just behind another horse, finished well and galloped out strong," Wilkes said. "He got everything I wanted out of the work."
Wilkes considers McCraken his first legitimate Kentucky Derby prospect since his experience with Street Sense. "(McCraken) has always shown he is very talented," Wilkes said. "He has matured a little since he last ran, and I think he's stronger now. He's a nice horse who can be a little playful, and I love being around him."
Unlike Street Sense, for whom Nafzger had mapped out a plan leading to Louisville at the start of his 3-year-old campaign, Wilkes is letting McCraken dictate what comes next on a race-to-race basis.
"I don't want a tough, tough race for him yet. I want a race that will enable him to move forward right now," he said. "I've had good luck at Tampa Bay Downs, so we're planning to start him in the Davis and see where he takes us."
Around the oval. Tampa Bay Downs holds its annual "Cap Giveaway Day" celebration on Saturday. The attractive sky-blue-and-white cap with the distinctive track logo will be given to all patrons with paid admission, while supplies last. Additionally, jockeys will be available through the course of the afternoon for autographs on the first floor of the Grandstand.
"Cap Giveaway Day" supplements a 10-race card beginning at 12:25 p.m. Tampa Bay Downs will also simulcast the full card from Gulfstream Park, including the $12-million Pegasus World Cup Invitational Stakes, which features the highly anticipated rematch between the Breeders' Cup Classic winner and Eclipse Award Champion 3-Year-Old Male, Arrogate, and two-time Horse of the Year, California Chrome.
Saturday's first race from Gulfstream is at 11:30 a.m., with post time for the Pegasus World Cup Invitational, the 12th, at 5:40 p.m.
Action Everyday, a 3-year-old colt from the barn of trainer Todd Pletcher, turned in a solid performance to win the second race and improve to 2-for-2. The son of The Factor-Tina's Goal, by El Corredor, was ridden by Jesus Castanon. His time for the mile-and-40-yard distance was a commendable 1:42.20, especially since Castanon eased off the pedal late. Giant Payday was a length-and-a-quarter behind.
Action Everyday is owned by St. Elias Stables. His victory was one of two on the card for Castanon, who also won the fifth race on the turf on Mr French, a 3-year-old gelding owned by Jim Daniell and trained by Jonathan Thomas.
Castanon is track announcer Richard Grunder's guest for Saturday's "Morning Glory Club" show, which begins at 10 a.m. on the first floor of the Grandstand. Attendees receive free coffee and donuts and Grandstand passes.
Preparations are underway for the 25th annual "Hearts Reaching Out" Golf Tournament, Dinner and Charity Auction, to be held Monday, March 6. The event benefits the Race Track Chaplaincy of America—Tampa Bay Downs Division and those individuals at the track served by the RTCA.
The RTCA—TBD Division golf tournament, which is a four-person scramble, will be played at Cheval Golf and Athletic Club in nearby Lutz, with an 11 a.m. shotgun start. Dinner is at 5:30 p.m. on the first floor of the Tampa Bay Downs Grandstand, followed by the live and silent auctions.
Items to be bid on during the auctions include horse racing and sports memorabilia, signed photographs and paintings, tickets to sporting events and gift baskets. There will also be a raffle for a Corriente saddle donated by Wayne Baize, a popular Cowboy Artist. Raffle tickets are $10 and will be available at the Chaplain's office on the Tampa Bay Downs backside in the days leading to the event.
Cost for the tournament, dinner and auction is $100, with a $20 cost to those attending only the dinner and auction. Groups or individuals can sponsor a hole with signage at the tournament for $125. Table sponsorships for the dinner and auctions are also available, and the chaplaincy is accepting donations.
For details, call the Chaplain's office at (813) 854-1313 or RTCA—TBD President Sharyn Wasiluk at (813) 494-1870.
Tampa Bay Downs is open every day for simulcast wagering, no-limits poker action and tournament play in The Silks Poker Room and golf fun and instruction at The Downs Golf Practice Facility.