By Michael Adolphson —-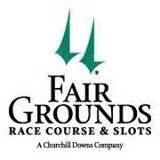 • Cash Control After More NOLA Loot
• Geroux Stays Focused During Another Big Meet
CASH CONTROL AFTER MORE NOLA LOOT
One of the more reliable horses over the last four seasons at Fair Grounds Race Course & Slots has easily been Richard and Bertram Klein's Cash Control. A multiple graded stakes winner elsewhere, the Brad Cox-trained daughter of Pioneerof the Nile has won five of eight tries at the New Orleans oval, winning stakes on both surfaces and finishing second twice. Unfortunately, the 6-year-old earner of more than a half-million dollars exits her first off-the-board finish when fourth in the $75,000 Maria G. Krantz Memorial on Jan. 21 over a soft surface.
Cox decided at that point to regroup with the emblazoned bay mare and hopes such pays dividends as he brings her back for the $50,000 New Orleans Ladies on Apr. 1.
"She's going to run on Louisiana Derby Day and I think she'll run a lot better," Cox said. "There's no doubt that going into the last race we expected her to win, but she did show signs that something might have off. Her coat was growing longer and she didn't look as bright. Sometimes fillies can be weird and go through phases like that.
"Luckily she came back around," Cox continued. "Before that she had been running every 30 or so days for a while, so a little time off like that didn't hurt."
GEROUX STAYS FOCUSED DURING ANOTHER BIG MEET
Jockey Florent Geroux is riding high on a serious season for the second consecutive year in New Orleans. Last year's champion jockey is striking well, working hard and doing his best to keep the momentum going after a 2016 that saw him win a nation-tying 10 Grade I wins. The native of the Normandy region of France is on the verge of landing his second consecutive title at Fair Grounds Race Course & Slots.
Still, it will be hard to top 2016; a year in which only Hall of Fame jockey Mike Smith won as many races at the top level. Geroux also finished fifth in 2016 in national earnings during an annual season that saw him prove his worth as a solid judge of pace and placement, as well as a terror when the money was on the line.
"It's been a really great meet for me personally" Geroux said. "I love riding down here. Doug (Bredar, agent) and I knew coming down here we would have good clients and could be strong if we got lucky. The question was whether or not we would be okay after having to miss the first few weeks and then having to ship out to other tracks some weekends for stakes races. We hoped to try to retain some of that business.
"We ride for great clients and that has been huge," he continued. "You have to appreciate when you know you're riding the best horse or one of the best horses in a race. The horsemen are making it happen and they deserve the credit. We just try to win as many races as we can."
Geroux is hoping to put the cherry on his spring tomorrow when he ships out to Dubai to ride his top horse, Winchell Thoroughbreds and Three Chimneys' Steve Asmussen-trained Grade I winner Gun Runner, the winner of the 2016 Grade II Louisiana Derby, in the Dubai World Cup. If victorious, it will be his greatest win of his career, as it is a Group I worth $10,000,000.