By Mike Henry —-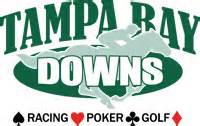 OLDSMAR, FL. – Ken Hamilton considers his victory in the "10 Days of Festivus Challenge" Handicapping Contest an ideal way to cap his rookie year as a horse player.
"I used to watch the Triple Crown races when I was a kid in the 1960s and '70s," said the El Dorado, Ark., resident. "The first horse I remember was Northern Dancer, who won the 1964 Kentucky Derby. But I got away from it in college, and I didn't start following it again until 2014, when California Chrome had a chance to win the Triple Crown in the Belmont Stakes."
Following the exploits of California Chrome and 2015 Triple Crown winner American Pharoah raised Hamilton's interest to new heights. "Seeing American Pharoah win the Triple Crown got me into racing full-time, as far as being a fan," Hamilton said.
He began subscribing to the STATS Race Lens handicapping program offered by Equibase to sharpen his skills in August of 2016, a few months before retiring as an accountant for an oil company after 38 years.
"I entered the Festivus contest last year, but I didn't last very long," said Hamilton, who earned first-prize money of $1,000 this month after accumulating a bankroll of $151.70. "I knew I was going to have more time to spend on handicapping when I retired, so I decided to make the plunge to really get into it."
Coincidentally, Hamilton finished ahead of Rich Loftus, a "semi-retired accountant" from Clifton, N.J. Loftus built a final bankroll of $112.60. He earned $500.
Hamilton and Loftus were among 895 handicappers to compete.
Hamilton got off to a spectacular start in the "10 Days of Festivus Challenge" on the first day when he selected Go Cristian Go, a 38-1 shot whose across-the-board payoffs increased his bankroll by $112.60. With $1,000 at stake, he made sure to stock up on lifelines, which proved essential when four of his 10 daily choices finished out of the money.
"I like a horse that is in good form, and I didn't understand why his odds were so high," Hamilton said of Go Cristian Go. "But that was fine because it pretty much made the contest for me.
"I think the knowledge I got from last year's contest helped a lot," added Hamilton, who hopes to visit Oaklawn Park in Hot Springs, Ark., this season to further his education.
Loftus also benefited from a long shot, selecting 12-1 shot winner Tree Peeps on Dec. 20. "Sometimes you get to that point where you're looking for something to pay off, and I thought he had the potential to do it," said Loftus, who usually goes to the races at Parx outside Philadelphia or Monmouth Park.
Around the oval. First-time starter Real Story won today's featured eighth race, a $22,500 maiden special weight contest for 2-year-olds at a mile on the turf. The gelding won in gate-to-wire fashion under jockey Tyler Pizarro by a nose from Big Agenda in 1:36.90.
Real Story, who paid $13 to win, is owned by Jeffrey S. Amling and Merriebelle Stable and trained by Ignacio Correas, IV.
Saturday's $100,000, 5-furlong Turf Dash Stakes has attracted an overflow field of 14, led by Canada's 2016 Champion Grass Horse, 4-year-old colt Conquest Enforcer, and the multiple-turf sprint, stakes-winning 7-year-old gelding Pay Any Price. The Turf Dash will be run as the eighth race on the card.
The sixth race Saturday is the $100,000, 5-furlong Lightning City Stakes for fillies and mares on the turf. That contest has drawn a field of nine. Included is the 5-year-old mare Everything Lovely, who won the prep race for the Lightning City on Nov. 25.
Thoroughbred racing at Tampa Bay Downs continues Friday with a 10-race card beginning at 12:25 p.m. Patrons can pick up a free souvenir Tampa Bay Downs calendar before the races on Friday, Saturday and Sunday, while supplies last.
The track is open every day for simulcast wagering, no-limits poker action and tournament play in The Silks Poker Room and golf fun and instruction at The Downs Golf Practice Facility.