By Jennifer Hoyt —-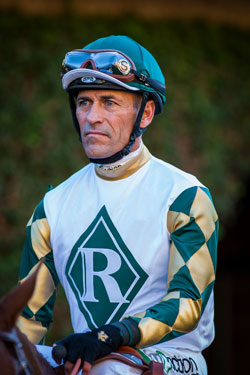 Gary Stevens; Zoe Metz Photography
Hall of Famer Stevens Eager to Get Oaklawn Meet Started
Gary Stevens stressed Monday morning that it's not a working vacation.
Stevens had just breezed Cool Alley, an unstarted 3-year-old filly for trainer Mike Johnson, when he outlined his previous day at Oaklawn, where the Hall of Fame jockey is wintering for the first time after previously being based in Southern California.
Clearly, Stevens, 54, is still a working man.
"Worked more horses yesterday morning than I think I have in the last 20 years, in the morning," Stevens said.
Stevens said he breezed seven horses Sunday, including Streamline, among the favorites for Saturday's $125,000 Pippin Stakes for older fillies and mares.
The jockey's last stakes victory in Hot Springs came aboard Concept Win in the $150,000 Count Fleet Sprint Handicap (G3) in 1996. Stevens' first at Oaklawn came in 1985, when he guided Tank's Prospect to victory in the $500,000 Arkansas Derby (G1) for Hall of Fame trainer D. Wayne Lukas.
In between, Stevens won the Kentucky Derby twice (1988 and 1995), three Breeders' Cup races and countless other Grade 1 events, fueling his induction into the National Museum of Racing and Hall of Fame in 1997.
Two decades later, Stevens, wife Angie and their precocious 8-year-old daughter Maddie have traded the warmth of Southern California for the arctic chill of Arkansas. He said his family left New Year's Day and drove to Tucson, Ariz., spent the next night in Fort Worth and rolled into Hot Springs just before noon Jan. 3.
The obvious question: Why would a riding great, synonymous with Santa Anita, Del Mar and the now-defunct Hollywood Park, move his family approximately 1,600 miles less than two months before his 55th birthday?
"Like I've told multiple people in interviews, some pretty basic things – quality horses, quality horsemen, quality money, quality management and quality living," Stevens said. "Pretty simple math."
Stevens has had 87 career mounts at Oaklawn, stretching from his first in 1985 to three last year, but said his wife and daughter had never been to Hot Springs.
Angie is a talent manager. Maddie, a model/actress, is homeschooled, the jockey said.
"They didn't know what to expect," Gary Stevens said. "They are in heaven right now. They didn't know what they were getting into. They didn't know where I was taking them – put it that way – and they're pretty happy."
Stevens, who is represented by agent Jay Fedor, is named on 15 horses the first three days. He will be riding for celebrated names like Hall of Fame trainer Steve Asmussen, two-time Kentucky Derby-winning trainer Doug O'Neill and Lukas, a longtime supporter. They teamed to win the Kentucky Derby in 1988 with the filly Winning Colors and the 2013 Preakness with Oxbow.
In the ultra-tough Southern California jockey colony, Stevens had only 264 mounts overall in 2017, but said he will not be choosy during the Oaklawn meeting that begins Friday.
"Whatever my agent puts me on," Stevens said. "He's got the pen, and I've got the reins. He's got a green light He's a good agent."
Physically, Stevens said he feels better than he did before knee problems triggered a lengthy retirement (2006-2012) from the saddle. Stevens had knee replacement surgery in 2014 and hip replacement surgery in 2016.
"Knees are good, hip's good," Stevens said. "Feel like a kid again."
Stevens starts 2018 – he began riding professionally in 1979 – with 5,125 victories and $253,464,419 in purse earnings in his career, the latter ranking ninth in North American history, according to Equibase, racing's official data gathering organization
Stevens won an Eclipse Award as the country's outstanding jockey in 1998, has 11 Breeders' Cup victories and nine in Triple Crown events. His numerous A-list mounts include Eclipse Award winners Beholder, Silver Charm, Point Given and Serena's Song.
There's room for more A-listers, too, Stevens said.
"I haven't felt this way in a long time," Stevens said "I feel pretty motivated right now and just excited to get started. I feel the pressure because big things are expected, and I'm going to get the opportunity to ride for some top outfits and some very good horses. It's up to me to perform now."
Stevens has 20 victories at Oaklawn, including six stakes.
SoCal Strong
Friday's opening race of the meeting is scheduled to feature Pray Hard, a 7-year-old Kafwain gelding trained by Southern California-based Doug O'Neill, who has a string at Oaklawn for the first time this year.
An aptly named horse, in this case.
Pray Hard is one of three O'Neill runners at Oaklawn to escape the devastating Dec. 7 fire at San Luis Rey Training Center near San Diego.
The nighttime blaze reportedly killed 43 horses, including 15 for trainer Scott Hansen. O'Neill, a two-time Kentucky Derby-winning trainer had 45 horses at the facility, but all were unharmed.
Jack Sisterson, who oversees O'Neill's Oaklawn division, said it was "miracle" none of the trainer's horses perished or were injured.
Sisterson said the fire was heading straight toward O'Neill's barn before the wind shifted and fanned the flames in another direction.
"But by that point, we'd already let all 45 of them loose, just because that was the only saving grace, if the fire was to hit," Sisterson said.
Sisterson said most of O'Neill's horses were located Dec. 8.
"It was a miracle for us," Sisterson said. "They were spread out amongst the farms in the surrounding areas."
The final missing horse, Avicii, was found on the morning of Dec. 9, Sisterson said, at Trifecta Equine Athletic Center, a farm adjacent to San Luis Rey Training Center.
Sisterson said Avicii didn't have a name plate on her halter, which made identification more difficult since Trifecta housed the majority of the horses that escaped the fire.
"It took a little bit of extra time because there were hundreds of other horses that we had to go through and check the IDs," Sisterson said.
Pray Hard, Avicii and stablemate Picture Tube, who also escaped the blaze, were flown to Arkansas Dec. 13.
Sisterson said all three "shipped great" and credited Ryan Carpenter, O'Neill's veterinarian in California, for "strictly monitoring" the horses that were flying.
"He did specific tests just to make sure they could and were suitable and healthy enough to fly," Sisterson said. "They were all fine."
Avicii, a 7-year-old daughter of City Zip, was winless in three starts at the 2014 Oaklawn meeting for owner Charles Cella and trainer Lynn Whiting
Whiting died last April. Cella, Oaklawn's president since 1968, died last month.
"So it's a homecoming, especially after the fire experience she'd been in," Sisterson said of Avicii. "We'll have to get her a win here."
On the Grounds
Eight horses for trainer Peter Miller and one for Hall of Fame trainer Bob Baffert arrived Wednesday following a flight that originated earlier in the day in Southern California.
The Baffert trainee, Mourinho, will be among the favorites for Monday's $150,000 Smarty Jones Stakes for 3-year-olds. The lightly raced son of Super Saver (1-2-0 in three career starts) is coming off a runner-up finish behind Greyvitos in the $100,000 Bob Hope Stakes (G3) Nov. 11 at Del Mar.
Greyvitos returned to win the $400,000 Springboard Mile Dec. 17 at Remington Park.
Miller, who saddled two winners at last year's Breeders' Cup, including probable male sprint champion Roy H, has a string at Oaklawn for the first time in 2018.
In all, 17 Southern California-based horses were on the flight.
Finish Lines
For the fourth consecutive season, Oaklawn will offer a financial incentive to horses that win without running on the anti-bleeder medication, commonly known as Lasix, during the 2018 meeting, racing director David Longinotti said. The "Lasix-free Bonus Program" will offer a 10 percent hike to the winner's share of the purse for horses that win without running on Lasix. Based on the opening-day purse schedule, the bonus will range from $1,200 for Oaklawn's minimum purse of $20,000 to $60,000 for the $1 million Arkansas Derby (G1), the richest race of the meet. Four horses won races without Lasix during the 2017 meeting – Dutch Parrot (twice) for trainer Will VanMeter, Prospector Fever for trainer Ray Shumake, Double First for VanMeter and Forever Fara for Hall of Fame trainer Steve Asmussen. … Multiple Oaklawn stakes winner Whitmore and multiple stakes runner-up Petrov arrived Tuesday following freshenings in Kentucky, trainer Ron Moquett of Hot Springs said Thursday morning. … Unbeaten Amy's Challenge remains on schedule to make her 2018 debut in the $125,000 Dixie Belle Stakes for 3-year-old fillies Jan. 20, trainer Mac Robertson said Thursday morning. … Agent Julio Espinoza said he will represent apprentice jockey Edgar Morales, 19, at the meeting. A native of Puerto Rico, Morales recorded his first career North American victory Oct. 15 at Keeneland aboard Star Dog for the late Hall of Fame trainer Jack Van Berg. Morales won nine races overall last year, according to Equibase, racing's official data gathering organization. "Love him," Espinoza said Wednesday morning. "I think he can be a premier rider." Morales, who will begin the meet with a 7-pound weight allowance, is named on 10 horses over the first three days, including Star Dog for trainer Tom Van Berg, who inherited his father's runners following his death Dec. 27. Tom Van Berg hasn't started a horse in a decade. … Pin Oak Stable's Ready to Confess is under consideration for the $400,000 Houston Ladies Classic (G3) Jan. 28 at Sam Houston and the $150,000 Bayakoa Stakes (G3) Feb. 17 at Oaklawn, trainer Donnie K. Von Hemel said Wednesday morning. Ready to Confess ran fourth in last year's Bayakoa.